Top 10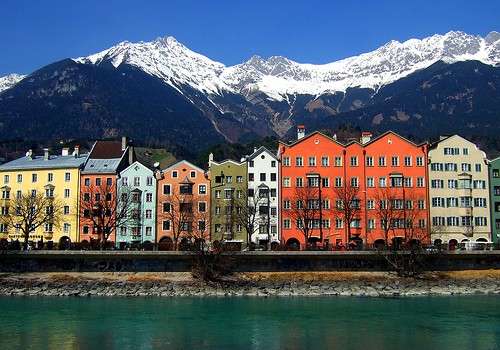 Published on July 20, 2011 | by Andrea Guerriero
2
Top 5 unmissable attractions in Innsbruck
Capital city of Tyrol in Austria, Innsbruck is located on the confluence of Rivers Inn and Sill. A visit to this lovely city, embraced by mountains and capable of being attractive in winter but also in spring and summer, will leave inside of you a feeling to visit this place again, sooner or later.
Who decides to visit Innsbruck, can choose among the many attractions that the city has to offer: historic monuments, outdoors activities, sports, up to the famous spas of Innsbruck, the city allows visitors to spend the best suited holiday for every taste.
These are the 5 places we believe to be the most thriving in the city. Those who don't have much time to visit it all, absolutely should not miss:
The Imperial Palace
The Hofburg, built in the XVI century, is a favorite with visitors and testimony of the Habsburg splendor. Do not miss the Prunkrsumr Chapel, where every year you can still enjoy the Mass to honor Francis I.
Hofkirche
Innsbruck Hofkriche (dating back to the XVI century as well) is built in Renaissance style, and houses the tomb of Maximilian I of Habsburg, surrounded by 28 statues of ancestors, relatives and national heroes. Designed by Andrea Crivelli, it was then enriched inside with works by Colin, Moll and Durer. The artistic wealth of the building, makes the Hofkirche a not to be missed attraction for those visiting Innsbruck.
The Golden Roof – Goldenes Dachl
This is perhaps the most famous symbol of Innsbruck in the world: standing over the facade of the ancient residence of Frederick IV, it is covered with over 2600 gold plated copper tiles, making it one of the most magnificent heritages of the Habsburg Empire. Also the Gothic-Baroque building below the roof is worth a visit: it's home to a museum dedicated to Maximilian I.
Tivoli Neu Stadium
Sports fans, shouldn't miss a visit to the Tivoli Neu in Innsbruck, which can accommodate up to 30,000 people. The structure, also chosen to host the European Championships of 2008, is nestled amidst a beautiful mountain landscape.
AlpenZoo
This zoo is known for being the higher zoo in Europe. Open every day of the year and perfect for adults and children alike, the AlpenZoo of Innsbruck is home to a wide variety of typical species of the alpine zone. Easily reachable by public transport, it offers the chance to stay in direct contact with nature and with the animals inhabiting the area.
These are the main attractions you should visit during your holiday in Innsbruck, but not the only, and principally these are only the most suitable for the summer. Want to know what does Innsbruck offer to those who happen to visit the city in winter? The list begins with the Nordpark… to learn the rest, keep following us!
Photo by James Cridland