Top 10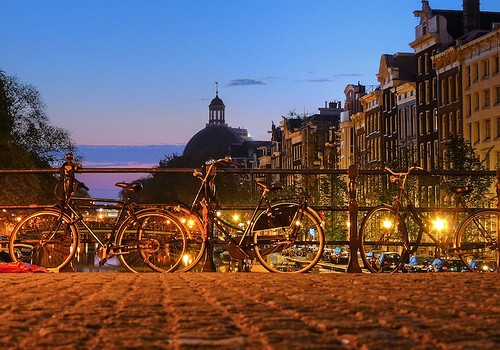 Published on September 12, 2011 | by Andrea Guerriero
0
Three things you shouldn't miss in Amsterdam
It's summertime, but do not despair, Amsterdam is a city you can visit in any season.  Amsterdam is a typical weekend city: not too big and pretty quick and easy to be visited. That's why if you go there for the first time, just a couple of days will be enough to discover the city centre and the main, not even too expensive, tourist attractions.
Amsterdam is one of the most visited cities in Europe. It is a young city, tolerant, charming and definitely cool. Well, if you put it in this way it may sound weird, but the city has an impressive number of very interesting museums: the Van Gogh Museum – dedicated to the Dutch artist, the Rijksmuseum – the most important museum in the Netherlands, the Stedelijk Museum, the Museum of modern and contemporary art, the Rembrandt House and museum, and much more… After the tour of the museums, however, and after a visit to Dam Square or to one (or more) of the traditional coffee shops in the city, do not miss this short list of attractions to make sure you have fully experienced the spirit of the Dutch capital.
1. Stroll along the canals
Some named it the Venice of the north, but Amsterdam is totally different actually, first of all for its architecture, which is definitely modern, here. Along the canals, stand the most beautiful and typical buildings of the city. Some lean slightly forward. It is not an optical illusion: the walls are really crooked. They were designed this way because inclination allowed to do less work when, in the past, foods for the winter were hoisted up to be stocked in the attics. Moreover, on the water there are many floating house boats, where people live year-round. Some of them are truly lovely and can be rented for holidays just like a hotel.
2. See the red light district
Only one way, Oudezijds Achterburgwal. This is the most touristy thing you could do in Amsterdam. Where else in the world can you find a city where gorgeous girls (many are foreigners, Dutch blondies are pretty rare nowadays) wave Hello as if you were old friends from display cases, in a clear state of undress?
3. Visit the flower market
If the red light district is a 'male thing', the Bloemenmarkt tour is absolutely… womanly! A stroll among thousands of colorful vases overflowing with flowers, tulips on the top of the list, of course, aligned along the canals. And don't forget to buy a bulb as a souvenir, to plant in on your terrace once back home!
Photo by joiseyshowaa