Holidays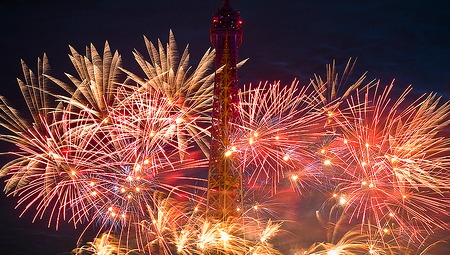 Published on December 18, 2013 | by Daniela
0
New Year's Eve in Europe: what'll be going on?
Unlike many other holidays, usually bound by tradition or religion, New Year's is a holiday that allows us to do… whatever we want. Europe boasts some epic NYE parties. If you're planning a New Year's trip, here's our favorite pick of the best destinations and their New Year special programs across Europe, in order to make your last day of the year one to remember.
New Year's Eve in Paris, France
On a New Year's Eve break in Paris, head towards the iconic Champs-Elysees starting from 9pm: this is the place to be if you want to be at the centre of the party. A classic, albeit extremely pricey, way to celebrate the end of the year is a New Year's Eve Cruise in Paris including dinner, for approx 380 € per person. Or, you can opt for a "cheaper" New Year's Eve at the Opera Bastille, with the ballet Don Quixote choreographed and produced by Rudolf Noureev. [the show starts at 7.30pm and ticket prices range from 25€ to 150€]
New Year's Eve in Berlin, Germany
Some say Berlin boasts the largest New Year's Eve celebrations across the whole of Europe. The city's celebrations are focused around the iconic Brandenburg Gate, and in the same area, there are numerous party tents, video screens and refreshment stands creating a truly vibrant atmosphere. Or, greet the New Year at Kulturbrauerei, a former brewery full of clubs that on NYE become a huge single room with fifteen dance floors and more than 30 Djs performing something for everyone. It is located on Schönhauser Allee 36, Prenzlauer Berg, [Ticket price is 29 euro and the party starts at 8pm].
New Year's Eve in Rome, Italy
The city's traditional New Year's Eve celebrations are centered around the Piazza del Popolo where huge crowds celebrate with music and dancing and of course, an impressive fireworks display. Classical symphonies and rock bands will mix up and last throughout the night. The event is free and no tickets are needed for this all-ages event, so leave it to others to close up in a club and enjoy the wonder or the Eternal City under the sky.
New Year's Eve in Madrid, Spain
In the Spanish capital, after midnight, the party goes on in the streets. Celebrations surround the Casa de Correos building in Puerta del Sol Square. If you'd better like the warmth of a night club instead of a party outdoors, Arena de la Casa de Campo proposes Space of Sound Festival, a night-event with over 40 live music performances of all genres; La Chueca district is the heart of electronic and rock music. Teatro Kapital, in Via Atocha, 125, is spread over 7 floors, each with a different music genre, from House to Salsa. Last but not least, Joy-Teatro Eslava, Calle Arenal 11, is Madrid's most popular historic disco, El Sol is the most informal and alternative, Pacha is the most renowned worldwide.
New Year's Eve in Amsterdam, Netherlands
If you're trying to find out where the action takes place in Amsterdam, you'll be spoiled for choice. The largest (free!) event in the city is at Museumplein, where you will welcome 2014 reveling with Dutch bands, DJs and a gigantic fireworks extravaganza. One of the most popular night clubs in Amsterdam, TIKTAK, breaks through to the NYE circuit with the TIKTAK New Year's Eve event at the Heineken Music Hall. A definite must is watching the display of fireworks over the Amstel River. Other big events will be taking place around Newmarket, Leidseplein and Rembrandtplein.
New Year's Eve in London, UK
Of course, even London offers a wide selection of options to welcome 2014 at best. You can party like a VIP at one of the most exclusive clubs across the city, such as Dorsia, in Kensington, or Anaya London, Soho. You can enjoy New Year's Eve at Bar&Co, London's moored party boat. Or you can celebrate the start of 2014 with the incredible New Years Eve fireworks on River Thames, Southbank.
Some will soak in alcohol and champagne, others will eat until they make themselves sick, and others will revel in the streets or at the disco singing and dancing until dawn. Or, they may do all these things together, or just choose to have some rest at home and make the evening a quieter affair. Just have fun and enjoy your time, a new year will come, but the old one is passing by and will never come back again: you'll miss it somehow, so wave it goodbye properly…
Photo by oleg.skl