Entertainment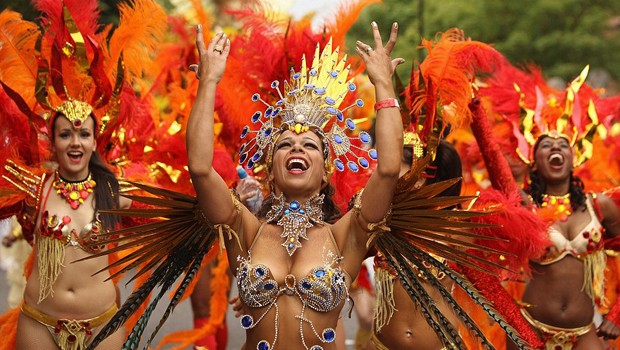 Published on May 24, 2011 | by Andrea Guerriero
0
Notting Hill Carnival – The Hottest Costume Parade in Europe
Although Carnival in August may sound weird, since 1964 London celebrates a great one in its eclectic Notting Hill area; again, this summer (precise dates are yet to be confirmed), parties, music, costumes and colors will attract visitors and performers from around the world.
Held each August since 1964 (some say 1966), the Notting Hill Carnival was originally a folk festival organized by the West Indian community of Notting Hill. Later, this event has evolved as a full-blooded Caribbean carnival, viewed positively by the Authorities in general, as a dynamic celebration of London's multi-cultural diversity, even if dominated by the Caribbean culture. The Notting Hill Carnival is nowadays the largest festival of its kind in Europe. Celebrations are mainly concentrated in the areas of Portobello Road Market and Golborne Road Market and attract millions of visitors from all over the globe.
The Notting Hill Carnival will truly inflame the capital of the United Kingdom, and London will be wrapped in a blaze of Caribbean spirit, with quirky dancers in costume, calypso and soca musicians, giant sound systems set up and over one million visitors of all ages, who will make the quiet district of Notting Hill, for an entire weekend, one of the most multicolored and cheerful streets in the world.
Everyone can enjoy the lively floats and the "feathered" dancers in costume, while going wild on the dance floors with house music and hip-hop, jazz, disco and Rockin' Blues. And then, don't miss the numerous food stalls, where you can breathe the wonderful aromas of traditional Caribbean food, and taste it, of course!
The Notting Hill Carnival usually starts on Saturday with the traditional steel band competition. On Sunday – usually devoted to children – the costume prizes are awarded, while the day after, the main parade takes place. This parade generally starts on Great Western Road, then flows along Chepstow Road, on to Westbourne Grove, and then up to Ladbroke Grove. In the evening, the floats leave the streets in procession, and people continue partying at the Notting Hill Carnival after parties.
The area of the Carnival is a huge area, and can be very crowded, so be prepared for two long and exhausting days; but for everyone who loves parties, the Notting Hill Carnival remains absolutely the most important event of the summer in London
The Notting Hill Carnival dates for 2011 will be announced shortly, check periodically on the official web site.
Photo by L-plate big cheese