Europe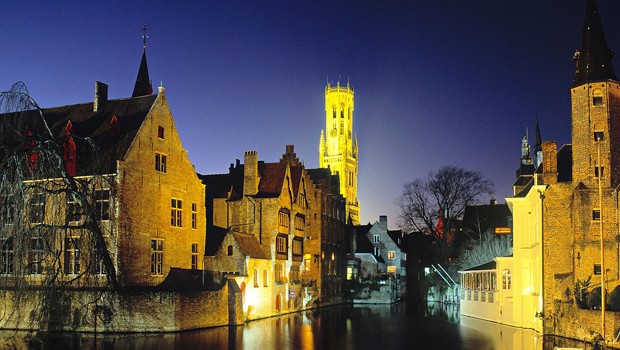 Published on May 16, 2011 | by Andrea Guerriero
4
The Medieval Magic of Bruges
One of the most beautiful places in Belgium, and perhaps in Europe, Bruges is the capital of West Flanders, well preserved from a historical point of view, insomuch as that the entire historical centre has been recognized as a world heritage site by UNESCO.
The attractions of this magical place include a wide range of museums, churches, historic buildings and canals – Bruges is called the Venice of the North – and the roads can be explored by boat, on foot or horseback, offering surprises and emotions which bring back to life the medieval spirit of this city.
The sights of Bruges that refer to the medieval period are endless, and you should have at least a week to be able to visit all of them.
The Burg is the medieval heart of the city: a public square close to the market, enclosing a number of beautiful buildings, which alone can drive you in a journey through the history of medieval architecture, and not only.
The square is surrounded by five beautiful buildings: the Basilica of the Sacred Blood, consisting of two superimposed chapels; the City Hall, with its superb Gothic Hall topped by a coffered ceiling in carved and gilded wood; the Palace of Justice, decorated with a oak and marble fireplace; the building of the "Vrije Brusge" and the Prepositura, which dates back to the second half of the seventeenth century, however.
Another central and symbolic landmark of Bruges is the Grote Markt (market square). The scenery is dominated by some impressive and spectacular buildings as the Provincial Hof and the extraordinary Belfort en Lakenhalle (Belfry and Cloth Hall), in addition to Romboudskathedraal (St Rumbold's Cathedral) with its flat-topped tower dominating the skyline: climbing its 500 steps it is possible to admire the intricate mechanisms of two enormous carillons.
Just behind the Minnewater – a canalized lake better known as "the lake of Love" – lies the Begijnhof "De Wijngaard" (The Vineyard), with its characteristic white houses surrounded by greenery overlooking the Square. It was here that during the 13th and 14th centuries lived the beguines of Bruges, religious women who led lives of religious devotion but without taking formal vows. In 1937 the Beguinage became a monastery for the Benedictine sisters, who still live here, and since 1998 it is a UNESCO World Heritage Site.
Among the events that animate the life of this city, many are held during the summer. It's the case of Klinkers – Bruges Music Festival (July-August), Musica Antiqua and Bruges Canalside Festival (both in August); the upcoming event is the famous Heilig-Bloedprocessie, which takes place on Ascension Day in May and celebrates the relic of the drops of Christ's blood kept in the Basilica and which includes a colorful procession in medieval costumes through the streets of the old town.
Photo by Wolfgang Staudt