Art & Design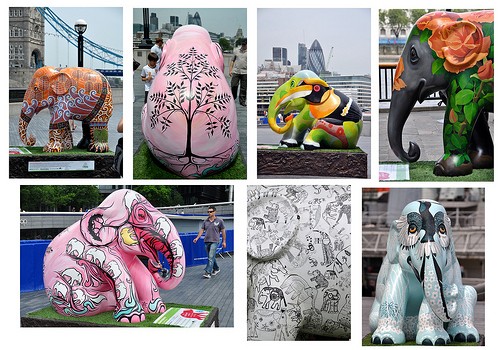 Published on September 26, 2011 | by Andrea Guerriero
0
The Elephant Parade comes to Milan
If you are in Milan between now and November 15, you may be delighted by the Elephant Parade. It has already been elected the event of the year 2010 in London and now it's in Milan since last 16 September (and through 15 November 2011), this is the most famous open-air exhibition in the world.
The entire city, including Malpensa airport, is scattered with elephant /works of art created to save the endangered Asian elephant.
The patroness of the initiative, Holly Branson, opened the event at the Virgin Active in Como, with the co-founder Mike Spitz, who heads the Elephant Parade with his father. And the latter is said to have had the idea of this event when, years ago, while on holiday in a country in the Far East, happened to visit a hospital for elephants. Legend has it that while he was there, a truck arrived with a baby elephant wounded in the leg by a mine, but lacking funds, the hospital could not afford a prosthesis.
Until today, the Elephant Parade has been held in Rotterdam (2007), Antwerp (2008), Amsterdam (2009) and London (2010), while this year the event was in Herleen (March-May 2011) and Copenhagen (June-August 2011). The next step will be in Singapore, from mid-november.
There will be 80 baby elephants waiting for you around town. The life-size art elephants will be located in the historical centre, in the fashion district, in the Navigli area, and in the nightlife locations. Among the designers who have decorated the installations are Carla Tolomeo, Karim Rashid, Alessandro Mendini, Barnaba Fornasetti, and many emerging artists. The ultimate aim of this exhibition is to combine art and charity, to raise funds for the protection of the endangered Asian elephant.
When the exhibition ends, the elephants will auctioned off, supervised by Christie's, in a special gala event to be held on November 22, in the halls of the Palazzo del Ghiaccio. The proceeds will go to the Asian Elephant Foundation and the Telethon Foundation – the charity reference of the Milan events. In the previous editions, 4 million euros have already been raised which have helped save hundreds of Asian elephants.
You will risk to get caught by the urge to find them all: but don't worry, you might never be able to buy one just for yourself, but you can always take pictures and show them to your friends as beautiful trophies, trophies of animals that have never had a better cause!
Photo by Paul Stevenson