Shopping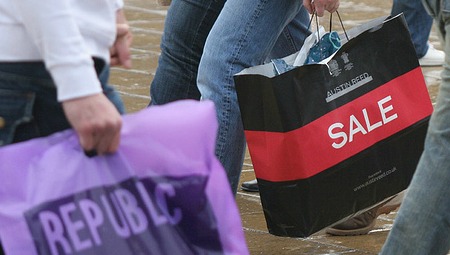 Published on May 3, 2013 | by Daniela
0
What kind of shopping person are you?
What kind of shopping person are you? Do you love to splash your cash on designers' clothing, rather than antique books or other collectibles? Do you actually have cash to splash on something or do you rather prefer window shopping? Well then, Europe offers shopping opportunities to suit all tastes, and pockets, of course.
Shopping is more than just scouting about must-have items. Food shopping, for example, can be just as fun as visiting stylish shops or glitzy wide-ranging malls, as well as flea markets can be just as cool, with great bargains and lots of fun people to meet on your way. Shopping in Europe can be a very charming experience, it's all about your tastes and feelings, it's all about understanding what kind of shopping person you are.
Here are our top suggestions for your shopping in Europe.
"It's a fake, but it's a good fake." Are you a bargain hunter? Shop at flea markets. The most colorful shopping in Europe is at its open-air secondhand markets. It means great deals and lots of fun. Best buys include vintage furniture, secondhand and antiquarian books, vintage clothes, lamps, weaponry, glass items, lace and fittings. Among the best are Barcelona's Mercantic, Amsterdam's Waterlooplein, Lille's La Braderie, London's Portobello Market, Madrid's El Rastro and Paris' Puces St. Ouen. Our special mention goes to Rome's Porta Portese Market, held on Sundays in the Trastevere district, where in addition to finding things you would never find elsewhere, you also get that thrill of being in one of the most evocative flea markets in Europe.
If you feel like being too lazy to walk around a city all day, or it's too hot, too cold, too rainy to go shopping, check out large department stores. These often feature also souvenir sections with local knickknacks and postcards, if that's what you're looking for. While the stores seem overwhelming at first, you'll find out that they generally work like any other. The most popular, in Europe, are: Le Bon Marché, in Paris, opened by Gustav Eiffel in person, or the historic Galeries Lafayette; the stylish Harrods, in London, KaDeWe or Karstadt in Berlin; La Rinascente in Milan, with unrivalled views of the city from the rooftop; El Corte Inglés in Barcelona, and all of its branches in the city and other major Spanish cities, with Madrid on the top of the list.
Most people have an idea of what they want to buy in each country. Any item can become very special if purchased in its "place of origin". With this in mind, the world capital of Haute Couture is Paris, with legendary addresses like Avenue Montaigne and Rue du Faubourg Saint-Honore, while the high fashion capital of Italy is definitely Milan: within its fashion district you will enjoy all the splendour and glamour popping from the glitzy windows of the fashion temples of Armani, Versace and Dolce & Gabbana. Sweet-tooths may appreciate original chocolate, so they may head towards the best chocolate shops in Brussels to taste and purchase Wittamer and Neuhaus chocolates, or add an extra touch of sweetness to their Swiss holiday by experiencing a trip on the Swiss Chocolate train!
Those looking for refined jewels may visit Florence, precisely the area of Ponte Vecchio and its surroundings, where ancient traditions and the expertise of goldsmiths make Florentine jewellery unique in the world and throughout history. A small list of some of the most noteworthy jewellers in Florence include: Barducci, La Bottega dell'Orafo, Chilleri, Ugo Piccini…
Well, it could also be that you don't know exactly what you want shop for, or how much you want to spend; it may be warm and sunny outside and you may be perfectly comfortable with the idea of walking and visiting and looking and shopping all day. So we would like to end this journey by providing a list of the most famous shopping streets in Europe.
In addidion to the aforementioned Fashion District of Milan, consisting of Via della Spiga, Via Montenapoleone, Via Manzoni and Corso Venezia, there are Quai Jean Jaurès and Quai Suffren in Saint-Tropez; Champs-Élysées in Paris, Regent Street in London, Passeig de Gràcia, Rambla Catalunya, or Avinguda Diagonal in Barcelona; Friedrichstraße and Schloßstraße in Berlin; Váci utca in Budapest; and finally, back to Italy again, Via Condotti and Via del Babuino in Rome, and Via dei Calzaiuoli in Florence. Just to mention the highlights.
Photo by I See Modern Britain