Food & Wine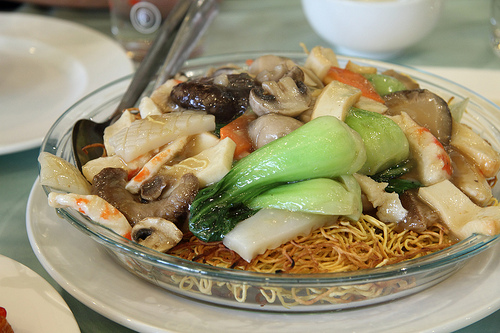 Published on March 22, 2011 | by Andrea Guerriero
0
The Best Vegetarian Restaurants in London
Vegetarian food in London is very diffused, also because the demand is growing. The simplicity of the preparation of food, the wholesome, often organic ingredients, make it very 'attractive' those restaurants where you can not eat meat (including fish of course).

Everyone should try vegetarian food, especially those who think that it is a poor and not very tasty cuisine. On the contrary, it is first and foremost a very healthy way of eating, but most of all it is so varied and meticulous that it can satisfy the most sophisticated and demanding palates. Throughout the city, in all areas of London you can find restaurants, bars and vegetarian eateries.
Among the others, it is worth mentioning Food for Thought in Covent Garden, where gourmets will enjoy great vegetarian dishes, fries, soups and salads at very low prices. Slightly more expensive, but equally popular among vegetarians, is Mildred's, in Lexington Street, a spacious venue frequented by employees and tourists, especially at lunchtime. Specialty of the house are sautéed vegetables and grilled soy burgers.
In the city centre, near Piccadilly, there is the Red Veg with an offer of fast food dishes of vegetables, soy rolls and organic soft drinks. A cult place is definitely the Saf, in Curtain Road, considered the Mecca (or heaven) for vegetarians: it serves vegetarian dishes that seem works of art and organic vintage wines.
The oriental style Rasa, in Stoke Newington Church Street, offers mostly vegetarian Indian cuisine, as well as the Govinda's Restaurant, in Soho Street, a very sober restaurant and with attractive prices, but of great quality. At The Kastoori, Upper Tooting Road, you can eat vegetarian with typical influences of East Africa.
At the Beatroot, on Berwick Street – Soho, cafè&vegetarian restaurant, vegetarian dishes can be enjoyed in a truly special way: you choose a container of different sizes and therefore different prices (£ 3.90 small, £4.90 medium or £5.90 large ) and fill it with the buffet served food that you prefer. You can eat at the tables outside or take your meal away to enjoy it on the lawn or on the benches of the nearby Soho Park.
Photo by Geoff Peters 604