Wellness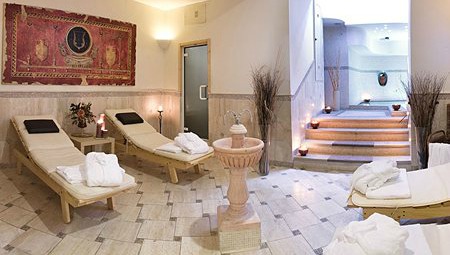 Published on December 1, 2009 | by Francy
0
Spa hotels in Rome – Culture and Wellness
Are you looking for a cultural holiday, trying to discover the wonders of the "città Eterna", but you need also to relax and regenerate cuddling in a beauty center?
Here, there is a list of hotels equipped with beauty center chosen just for those taking care about health, that at the same time want to relax and be fascinated by the millenary charm of Rome!
TRILUSSA PALACE HOTEL Congress & Spa – Hotel Rome Trastevere
Trilussa Palace is an elegant 4 star hotel situated in the heart of Trastevere, one of the most enchanting and picturesque districts of the capital, only 500 m from Trastevere Station and very close to the famous Porta Portese market. This hotel boasts an exclusive and refined beauty center, the ideal place where to have relax far away from daily frenzy and where to regain their own psychophysics health. Apart from a heated Jacuzzi, a sauna and a Turkish bath, the hotel put at yours disposal further comfort such as one relax room and several rooms dedicated to the practice of customable massages. After relaxing in beauty center, for those interested in fitness, there is also the possibility to use an equipped gym with the last generation apparatus, before going to sleep in one of the elegant and comfortable rooms of the hotel.
ALL TIME RELAIS & SPORT HOTEL – Hotel Rome Eur
In the heart of the business area of Rome, EUR district, All Time Relays & Sport hotel is very suitable for business men and tourists wishing to conjugate work with a pleasure and healthy stay. The hotel boasts a beauty center equipped with sauna, Turkish bath, Scottish shower and two Jacuzzi. Besides, it is possible to book beauty treatments and customable massages. Health area is opened from Monday to Friday, from 10:15 a.m. until 8.15 p.m., and also on Saturday and Sunday from 10:00 a.m. until 1.00 p.m..
FOUR POINTS SHERATON ROMA –  Rome EUR, close to Nuova Fiera
Very close to Rome's Nuova Fiera, Fiumicino Airport, Ostia archeological sites and in a strategic zone both to reach Rome cultural and business center, there is the Four Point Sheraton hotel, a modern and functional 4 star. After an hard work or tourism day, you can relax from Monday to Friday, from 4:30 p.m. until 10:30 p.m., in a real pleasure oasis immersing yourself in the heated pool or Jacuzzi, toning in the gym or cuddling due to the warmth of the sauna or Turkish bath and if you wish, you can also book a massage at the hotel reception.
HOTEL IMPERIALE – Via Veneto, in the historical center
In the heart of Rome, just in the famous Via Veneto, stands Hotel Imperiale, a charming 4 star hotel renowned for its attention to details and best comforts. After a day among the wonders of Rome from the steps of Piazza di Spagna to the Trevi Fountain, from Coliseum to Piazza Navona, why don't take a relaxing break in the hotel spa?
"Aquarium" is what's right for you thanks to a wide range of services: Turkish bath, sauna, Jacuzzi and even emotional shower… Good relaxation!