Europe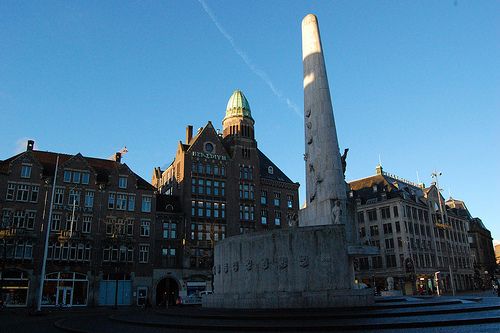 Published on March 29, 2010 | by Francy
0
See you in Amsterdam. But where?
What could be more sympathetic then an appointment with a friend in Amsterdam on a certain day at a given time? The problem is deciding in which of the main points of reference where to meet. Here, we suggest some places.
The first, surely, is the square of the Stationsplein railway station. The Central Station is located on a closed island between two major arteries, the De Ruyterkade and the Prins Amstelstraat. The station, in Gothic style, is a beautiful monument from where depart trams, buses and the boats making the rounds of museums of the city.
Another place where to meet is the Dam Square, the centre of the downtown. At the centre of the square there is a huge obelisk. You have just to agree on which side to expect: if the one in front of the royal palace or opposite to the new church.
Another important square where to meet in Amsterdam is the Leidseplein, an ancient place of access to the centre of city. Here, the appointment could be in front of the Stadsschouwburg, a beautiful neo-Renaissance theatre. But perhaps the ideal is in front of the Bulldog, the world's most famous coffee shops, or in front of the Heineken cafe, which is also one of the most fashionable club of the city.
You should meet also at the intersection between Korte Strmsteeg and Prins Zeedijk. You could choose to see you there, because of the numerous Chinese restaurants in the area, but you know very well that you are rather close to the Red Light District. If you did not embarrass, you could make an appointment at a few hundred yards away, in the Nieuwmarkt, the heart of the Red Light District.
Be careful, don't give you an appointment with a generic "I'll see you in the Red Light District", because in Amsterdam there are three red light district: one, already mentioned, in the area of Nieuwmarkt; another in the Singel neighbourhood, to the west of the centre; and the third in the Pijp district, near the Rijksmuseum, further south.
If you prefer a cultural place, you can choose from one of the many museums of Amsterdam: the Van Gogh Museum is in Paulus Potterstraat 7; the Rijksmuseum is in Stadhouderskade 42; the Rembrandt House is in Jodenbreestraat 4; the Stedelijk Museum (modern art and contemporary art) is in Oosterdoksdijk 5; finally, do not forget that the house of Anne Frank is at Prinsengracht 267.
Photo of  Dam Square by tomaskohl