Wellness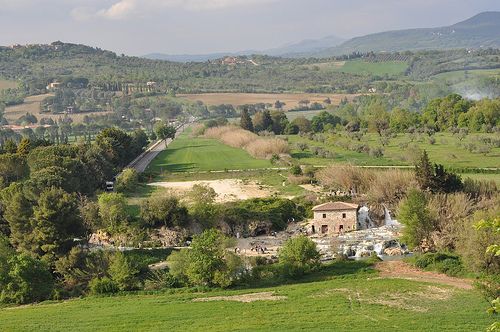 Published on August 23, 2011 | by Andrea Guerriero
0
Saturnia magic: Between Myth and Reality
Saturnia: the place where, according to many, was built the first city of the Italic civilization. According to legend, Saturnia originated by the thunder hurled to earth by the god Saturn, and nowadays it is a hamlet of Manciano, so small that you can visit it in less than an hour, placed on the green hills along the river Albegna, right in the center of Tuscany, a short distance from the sea – Argentario coast – and the mountains, both reachable in about 40 minutes by car. Traces of its past can be found in the circle of walls dating back to IV-III century BC, in the Porta Romana and in an old spa complex, which is near the parish church, consisting of a square pool built by the Romans.
Going down the valley, in the direction of Montemerano, you will find the famous Terme di Saturnia, with their sulphurous water that vigorously flows since over two thousand years at the rate of eight hundred liters per second, and which nowadays are one of the most renowned spa centers in Italy. With four outdoor thermal pools, whirlpools and hot and cold water vascular therapies available, the Thermal Park Terme di Saturnia are surely a not-to-be-missed attraction in Tuscany, an oasis of relaxation. The thermal waters flow at a temperature of 37 degrees, and here you can swim all year round. The water of the spa is miraculous for your skin and for healing many other diseases, but be aware that after your baths you will 'stink' for at least a couple of days!
About 500 meters away from the thermal complex, you will also find the famous water falls called Cascate del Mulino, where people enjoy free thermal baths in every season.
If you are lucky enough, booking in advance in high season, you will have the opportunity to stay at one of the best B&Bs or Agriturismo available in the area, where you will also enjoy great traditional specialties. Here, it will be a pleasure to enjoy the typical dishes from Maremma, such as Pappardelle pasta with rabbit sauce, ravioli with Swiss chard and ricotta topped with meat sauce, as well as tasty dishes based on fish to be all enjoyed along with prized wines produced on these hills.
Finally, don't miss an exciting wine tour in this area: the 'Colli di Maremma' one concerns one of the major red wines of Tuscany – the Morellino di Scansano, but are worthy of note also the 'Monteregio-Massa Marittima' – the new expressions of wine production in the Maremma region, rather than the last born Montecucco – with the unique flavors of a wine born on the slopes of the mountain, from which arise only simple and genuine products enhanced by the flavors of yesteryear.
Photo by AroundTuscany