Italy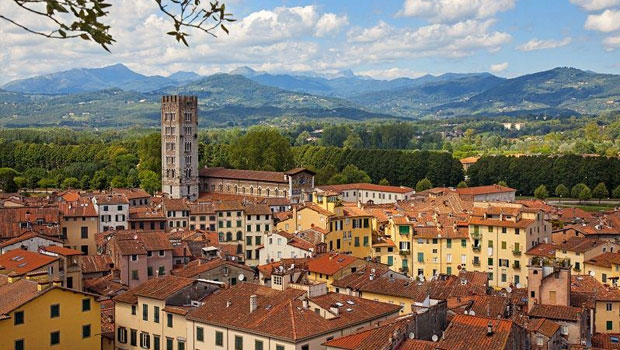 Published on August 24, 2017 | by Linda Smith
0
How to Spend a Day in Lucca, Italy
To see any city, town or cultural gem of a location in just one day is no mean feat but if you plan ahead and stick to your itinerary you will be amazed at what you can achieve, rather see and do, in just 12 short hours on the road. Travel is becoming more and more accessible and as a result people are traveling more often but it seems for shorter amounts of time. Little and often seems to be the way of the modern traveler and visiting Lucca in Italy is a great way to get yourself trained like a pro in savvy, quick yet enriching travel experiences.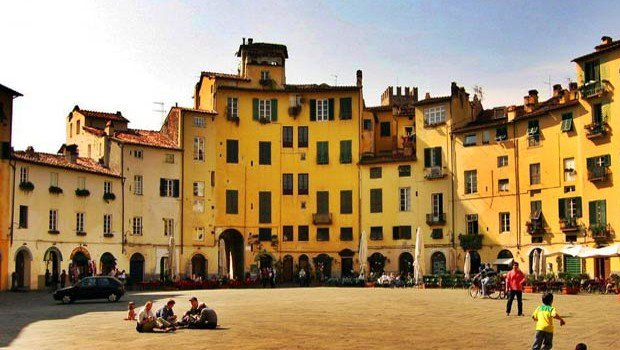 With over one hundred churches to visit and observe it is hard to initially know where to start when thinking about how to spend a day in Lucca. In reality, to do justice to this wonderful city and explore all that it has to offer, you really need to spend a few days here. Not only does this give you more time to tick off all the major sites at a more leisurely pace but the extra time will allow you to get a real feel for this truly authentic Italian city.
In order to maximise every minute you have to spend in Lucca be sure to arrive by train at the earliest possible hour. If your itinerary and budget will allow then it definitely makes more sense to arrive late the night before and rest up in one of the many hotels or bed and breakfasts that Lucca has to offer. That way you can be up at the crack of dawn to get exploring.
Lucca, The City of Churches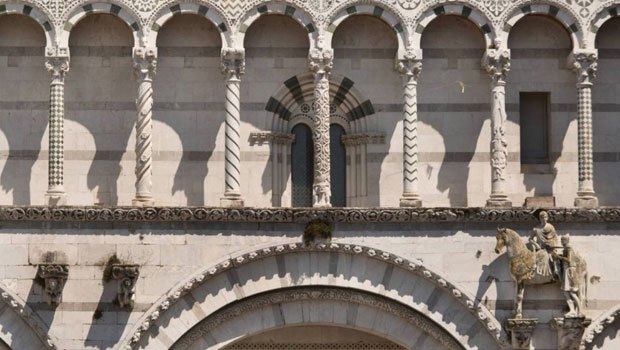 Lucca as a city is famed for its huge number of churches, one hundred and one churches to be exact. The Italian people are predominantly of the Christian and Catholic faith and as such throughout Italy there are a great many churches and shrines to visit and observe. Now, to visit all one hundred and one churches in just one day would surely break some kind of world record and to be honest, you would get little to know sense of accomplishment (other than setting a world record) for you would spend a matter of minutes at each venue.
The best thing you can do is narrow your church visits down to just the highlights, in terms of cultural significance and architectural importance. Be sure to schedule a visit Lucca's cathedral and main church building known locally as St Micheal's Church or Il Duomo. To find St Micheal's Church make your way to St Micheal's Church Square which lies at the very centre of Lucca's historical centre. Follow your way along Il Fillungo which just so happens to be one of the most famous streets in the city; home to all the major department stores and luxury boutiques.
Next, it makes sense to over the church aspect of you day in one go, head to the Cathedral of St Martin which is, unsurprisingly, located in St Martin's Square. Inside the cathedral you will find truly breathtaking art work that are nothing shy of masterpieces. Featuring works of art by Jacopo della Querica on Ilaria Del Carretto's Tomb and the Volto Santo. The Volto Santo bares significance to the local people of Lucca for it is a wooden crucifix of the Holy Face, this symbol of the city can be traced back to ancient times.
Walk the Walls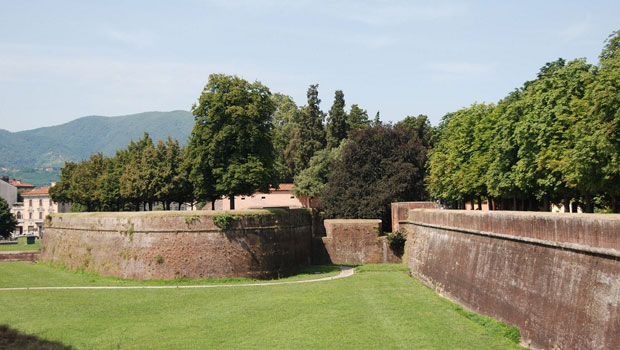 As features in many historic European cities, Lucca too features ancient city walls. A walk around the historic city walls is a great way to work up a hunger in the early morning before breakfast in the city center. Unlike the city walls in other locations the city walls of Lucca can be accessed in their interiority by foot, and once upon a time by car too. Get your walking boots, or at least comfy shoes at the ready, for there are 4km of city walls to walk. If you keep up a reasonable pace you can walk the circular route in just over and hour, including taking stops for photographs.
Even in the hot, Italian summer sun the city walls are a delight to explore thanks to the trees than line the paths providing ample shade throughout the day. If you are feeling romantic perhaps pack yourselves a picnic and pitch up at one of the tables and benches dotted along the route. Dining al fresco really is the done thing in Italy after all.
Amphitheater Square in Lucca, Italy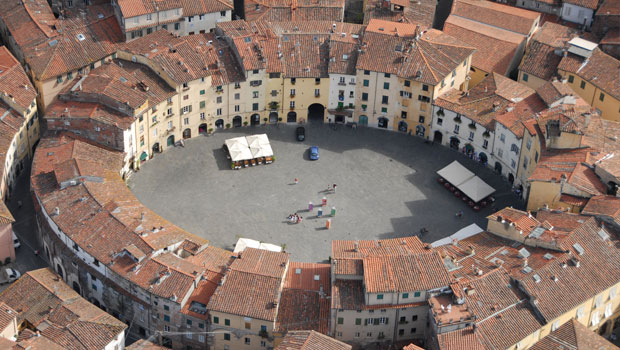 Quite frankly no visit to Lucca, whether a day trip or a week long holiday, would be complete without visiting the Roman Amphitheater. Located conveniently close to Fillungo which is the starting point for all explorations in Lucca, the Roman Amphitheater can be accessed by walking which is brilliant for those on a budget who do not want to splurge on taxis. Known to local people as Piazza dell'Anfiteatro or simple the Amphitheater Square the area is a great spot for taking photos. An authentic piece of Roman history there is so much to explore and learn during your visit here.
Place yourself at the centre of the square and slowly turn around, and around, observing every tiny detail of this Piazza. Do not get too dizzy, there is so much to look at you may find yourself spinning round a number of times to take it all in. The square is in fact oval, just to make matters somewhat more complicated. To spoil the illusion somewhat we must tell you that the Roman Amphitheater sadly no longer exists, rather the areas where it once stood has been preserved and has become a hub for touristic activity. Along the edges of the oval-square you will find a great many eateries, bistros and quaint souvenir shops to explore. Of a lunch time the Piazza dell'Anfiteatro is the perfect place to rest your tired legs and enjoy a cool glass of Italian white wine and watch the crowds walk on by.
Museums and More at Piazza Grande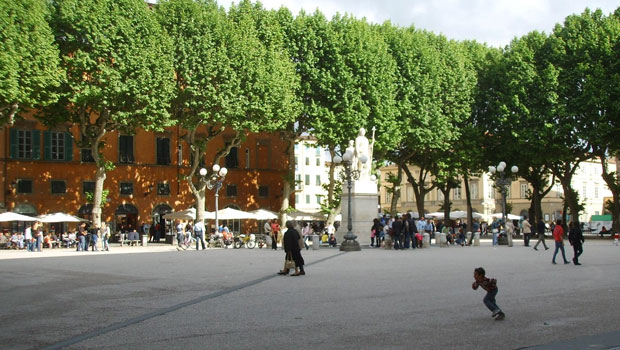 During the winter months the Piazza Grande is a must visit for the square house and perfectly decorated Christmas Tree and an ice-skating rink too! Fun for all the family and a wonderfully romantic activity of you are visiting Lucca with love in mind. Also known as Piazza Napoleone, for it was reconstructed in honour of Napoleon Bonaparte himself on the request of his beloved sister Elisa, Piazza Grande could easily be missed off on a day trip to Lucca but is well worth making the effort to see.
If churches are not your thing then your best bet is to skip the Church of St Micheal and the Cathedral of St Martin and substitute these places of interest for the National Art Gallery which can be found in Palazzo Mansi which was created in the 17th-century. Here, at the Palazzo Mansi, you will find examples of fine art created but master artists during the renaissance period.
What's On in Lucca?
Whether you visit Lucca in the height of summer of the depths of winter there is guaranteed to be an event, exhibition or workshop to attend. This community love a reason to celebrate and a fine example of this is the Summer Festival in July every year. Throughout the month the city hosts wonderful open air concerts and art exhibitions to explore. Check out the Lucca Tourism Board's website for information and to plan your visit.