Italy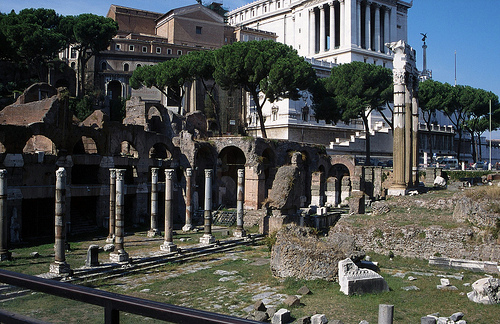 Published on January 11, 2011 | by Francy
0
Rome: a few feet below
The monumental heritage of underground Rome is vast and complex. Much of this archaeological heritage below the Eternal City, belonging to different historical periods, has been recovered and made accessible to tourists, but often these sites are visited only by reservation.

The Superintendency of Tourism and Culture of the City of Rome, organizes tours guided by archaeologists and experts in about forty archaeological sites. The most notorious among these are: the Virgin Aqueduct – the only aqueduct of the Roman age still working; the Auditorium of Maecenas – discovered in 1874, with frescoes of the 1st century BC; the Basilica Ulpia in the Forum of Trajan – with floors in antique yellow marble; the Cistern of the seven rooms in the Baths of Trajan; the Cistern in Via Cristoforo Colombo – a series of rooms and tunnels of the 2nd century AD; the underground link between the Roman Forums of Caesar and Trajan; the Roman Insula underneath Palazzo Specchi in via di San Paolo alla Regola.
In via Labicana, there is the Ludus Magnus, the gladiators' barracks; the Necropolis of Ostia; the San Carlo ai Catinari in Piazza Cairoli, an archaeological complex that houses a nymphaeum; the excavations of Piazza di San Giovanni in Laterano – with underground blocks and the remains of the barracks of the emperor's guard; the Basilica in Piazza Santa Maria Maggiore, built in the 5th century, which stands on a large structure, perhaps a public building; the Republican Sepulchres in via Statilia; underneath Piazza della Minerva there are the ruins of the first bath complexes, built in the former Campo Marzio.
And finally, the Mitreo of the Circus Maximus, the Vatican Necropolis, the basement of the basilica of S. Clement and of course all the catacombs such as those of Commodilla, the Catacombs of Priscilla with paintings of the Old and New Testament, the catacomb of Vigna Chiaraviglio dating back to the 4th century.
Legitimately, some have defined the subsoil of Rome one of the largest archaeological museums in the world. Also because the discoveries made so far here are just a fraction of what there is still hidden beneath the surface of the city.
Photo by TyB