Europe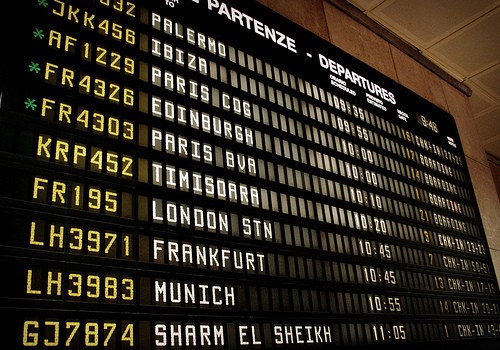 Published on February 9, 2012 | by Daniela
0
Noteworthy airports in Europe! You can tell a good holiday from the airport!
Airports are places in which we have to spend an inordinate amount of time, especially since security measures have been heightened to combat terrorism. Therefore, airport's facilities become just as important as the flights we're going to take. Well, what are the most noteworthy airports in Europe?
People who are about to leave on holiday have the right to start enjoying their time just out of their doorstep, as well as business men may need to stay comfortable and stress-free during their business trip.
SKYTRAX World Airport Awards™ are the most prestigious recognition of quality for airport operators across the world, based on the annual survey. World Airport Award™ airport rankings are based on passenger satisfaction (mainly frequent flyers and airport users), measured on a post-travel basis.
It analyses the airport experience for departure, arrival and transit, including cleanliness, the amount of time you have to wait for your flight and the helpfulness of staff.
The 2012 World Airport Awards will be held on 19th April, in Vienna, Austria, at the Messe Wien Exhibition Center. This year, Munich Airport ranked 4th in the worldwide rankings, indeed being the 1st Best Airport in Europe. Other "Best Airport Award" winners, in Europe, include: Amsterdam Airport Schiphol, Copenhagen Airport, Düsseldorf International Airport, Hamburg Airport, London Stansted Airport, Munich Airport, Zurich Airport.
Here's a look at the best European airports and what makes them so good.
As well as being an award-winning airport for its facilities, you can get from Munich airport, Germany, to most of the world's biggest cities. This also claims to be the least stressful airport, with terminal announcements stopping at two at night, comfortable seats, and lack of chaotic crowds. It is home to the Munich Airport Centre (MAC), a shopping, business and recreation facility located between the 2 terminals.
The best airport in Europe could well be also Amsterdam Schiphol. With a traffic of 47 million passengers, this is the third busiest airport in Europe. The airport virtually offers anything a passenger may need before or after a flight, including massage facilities and… the ability to get married right there in the terminal!
London Gatwick airport is surprisingly easy to navigate considering how big it is. Helpfully, the north and south terminal are well connected by trains and these run very regularly. Other great things at Gatwick are the plentiful eating options, which include a sushi restaurant and bar that serves rock oysters and champagne.
Zurich Airport, Switzerland, holds the record of being the cleanest airport in Europe, at least, rumors say "Cleaner than many British hospitals". Moreover, here everything is as efficient as you would expect in Switzerland and the departures run with the efficiency of a cuckoo clock.
Copenhagen Airport is only 12 minutes from the heart of Copenhagen. Airside, passengers have access to 50 shops, 15 restaurants and bars, conference facilities, a hotel area and a sauna. Staff service and terminal comfort and ambiance have been two of the higher scoring sections for this airport.
And what about Europe's Worst Airports?
Paris Charles de Gaulle airport, for example, has been described as uncomfortable and not well maintained. Moreover, staff are said to be rude and unhelpful. London Luton is probably the worst situated airport in Europe, and here, too, staff have been reported as being impolite and unsupportive. Finally, according to reports, passengers waiting for a delayed flight at Leonardo Da Vinci airport in Rome once heard the same captain apologizing by admitting that, after all, Rome's is known as the worst airport in Europe! In the "Eternal City," in fact, passengers often complain about waiting inordinate amounts of time for flights due to bad planning, and unacceptably long times to get your luggage too.
Far being from us to criticize or go up against them. But it's fair to accept two sides to every story. Is it?
Photo by liquene