Winter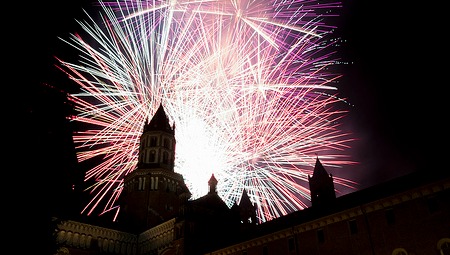 Published on December 20, 2012 | by Francy
0
New Year's Eve in Europe, our tips
If you're planning something special abroad for your NYE, you should already know that the biggest New Year's Eve parties in Europe are found in capital cities. What is common to most of them, are great fireworks displays and party revellers in any corner, to ring in the New Year. If you're going to spend the last night of the year in one of Europe's capital cities, we want it to go well. These tips should help you out.

Wrap up warm
Useless to say, it's going to be a very, very cold night. So you'd better muffle up in heavy clothes, although girls will be tempted to show they sparkling, tiny outfits at some point. Moscow will likely see night time temperatures down to about -10°C, you'll get around -2°C in Vienna, and up to +4°C in London, +5°C in Paris and Rome, while Madrid looks positively balmy at about 9°C.
Get in the groove
Step one: call it as they do. It's Nochevieja in Spain, Silvester in Germany, Hogmanay in Scotland, Notte di San Silvestro in Italy, Oudjaar in Belgium, la Saint-Sylvestre in France. Don't know where to go for the countdown to midnight? Start chatting to the locals and they will surely know where to find the best spots. Who knows, you can even find new friends to enjoy your time with!
Take your time but don't be late!
Enjoy your meal, don't rush. And don't miss out on any of the local specialties: it's your last opportunity for this year! Try to finish your dinner before 10 pm, so you have plenty of time to reach your destination and participate in the countdown with the others. Streets can get very busy, so take it into account.
When in Rome, do as the Romans do
Everyone has their own way of doing things or approaching life. The same goes for NYE traditions. Some are only for locals but it can be interesting and fun to soak up their culture and tradition and greet the new year in their way. Moreover, it would be a nice gesture towards our hosts. Here are some of the most popular customs across the Old Continent: Spain: Eating 12 grapes in 12 seconds at midnight; Denmark: jumping off chairs; France: kissing under the mistletoe; London: linking hands with everyone closeby and singing Auld Lang Syne all together.
Go cheap and fun
Besides the thriving disco club scenes centered around discothèques, nightclubs, and private loft parties, which can be very expensive and need advanced booking (and good doses of luck to get in) all European capital cities are also organizing big outdoor parties in central areas. Where you can dance big, drink big, and celebrate big. And where you can get a grandstand view of the magnificent firework displays. Here are the major hotspots across Europe: Berlin, Brandenburg Gate; London, Trafalgar Square; Vienna, Petersplatz; Paris, Champs Elisées; Rome, Piazza del Popolo; Madrid: Puerta del Sol; Prague: Old Town Square; Dublin: Temple Bar.
Photo by Simone Saviolo