Festival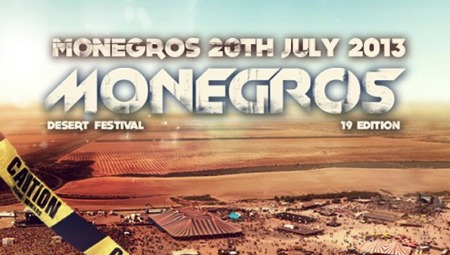 Published on July 11, 2013 | by Daniela
0
Monegros Desert Festival: Techno and House music in the Spanish desert
In an atmosphere that reminds that of Dune, by day, and that of Blade Runner, by night, on 20th July will be held the 19th edition of Monegros Desert Festival: 24 hours of techno, house, electro, dub step and hip-hop music. Where? In the middle of the Spanish desert, near the village of Fraga that, during the year has 12 thousand inhabitants, but during the Festival is crowded by around 50 thousand young people.
During the years, Monegros Desert Festival became a close-up event on the summer European music festival panorama. People who love techno and house music can't miss this event, or at least feeling heart-broken if they can't participate in.
And the reasons to be sad for those who can't be at Monegros Desert Festival on 20th July are many. The lineup, closed on the half of June, includes artists such as Underworld with Karl Hyde and Rick Smith, Public Enemy and Check D, that this year entered the Rock and Roll Hall of Fame, Richie Hawtin aka Plastikman, the Swiss Luciano, the Neapolitan Marco Carola and the German Yassine Ben Achour aka Loco Dice.
These people are not just the most resounding news of this edition of Monegros Desert Festival, because among the desert dunes, inside the spectacular location set-out with stages and marquees, people who made the story of this event will perform too. Such as, Ben Sims, one of the most appreciated techno dj in the world, Dj Murphy, prince-king-emperor of Brazilian techno, Pet Duo, a couple of hard techno Djs specialized in ass-shaking and Oscar Mulero, resident dj of the legendary Tresor in Berlin for years.
There will be around 50 artists and group alternating at console in a kaleidoscope of sounds that will entertain tens of thousands of wild young people with only one rule "Do whatever you want, but do not piss the others". Police service, discreet but uncompromising, ensures that the 'rule' (almost Benedictine for the truth) is respected. It's a festival of music and joy, where the contents of political and social groups like Public Enemy meet a maximum acceptance.
The Festival organization is meticulous. In addition to stages and marquees, where classes (in particular, it is expected the one organized by Row 14, renowned club in Barcelona) and music events will take place, there will be a huge skate-park, dozens of bars, free water and a shuttle service connecting the Festival area to Barcelona and Madrid airports.
In the nearby town of Fraga, now accustomed to this event, which define crazy is an understatement, there are hotels and hostels, restaurants where to find refreshment and a moment of peace.
Even if those who decide to go to Monegros Desert Festival are not looking for peace and tranquillity the 65 euro entrance fee must be exploited to the maximum: 24 hours pass in a flash.
And if you wish to get into the Monegros Desert Festival atmosphere, take a look at this video: The Monegros Desert Festival is coming