Shows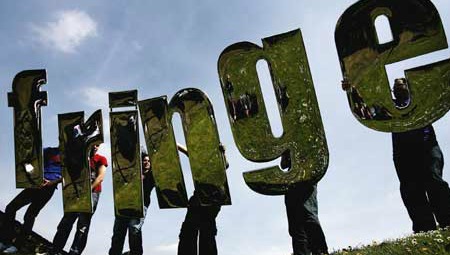 Published on May 24, 2013 | by Andrea Guerriero
0
Top 5 Comedy Shows to see at the Edinburgh Fringe Festival
The Edinburgh Fringe Festival – other than my friends and family it's the one thing I really miss about Edinburgh. In August every year, thousands of performers flock to Edinburgh from brand new acts, those yet to get their break, some just to make a bit extra money as well as the big stars.
It's such a nice time of year where it's nice to catch up with friends for a drink and a quick show or two, stroll up Edinburgh's Royal Mile at your leisure on a Saturday afternoon enjoying the street acts, generally very good for the families, or just sit back and take in the fantastic atmosphere.
When it comes to choosing a show it can be a little overwhelming with over 2700 performances to choose from. Therefore being a big comedy fan I thought I'd put together a recommendation list of comedy shows to see at the Edinburgh Fringe Festival.
1. Boy with Tape on his Face
My absolute favourite show is The Boy with Tape on his Face. Yes that's right he does a silent show. The Boy, aka Sam Wills, delivers a fantastic silent comedy show through the use of props and audience participation. I've seen him twice now and would go back again and again. I wondered if he could live up to his first show but his latest is magnificent with an awesome and memorable way to end the show.
2. Pete Firman
Pete Firman is becoming better known in the UK thanks for his appearance on BBC show "The Magicians". He beautiful engages an audience with a mix of magic and comedy that really captures and entertains.
3. Lady Boys of Bangkok
You would never have guessed, they beautiful boys look good and can dance and sing too. Expect flamboyant outfits, a dazzling display as they perform classic songs as well as their own injection of comedy with funny cabaret acts. I hear they will be doing a version of PSY's Gangnam Style.
4. Felicity Ward
One of Australia's hottest exports, Felicity Ward draws in an audience with her heart-breaking personal stories of past boyfriends and the time she almost got married with sets in between where she breaks into song and dance and gains many a laugh. So she goes from being hilarious to you feeling sorry for her, Felicity is very personal and very funny.
5. Daniel Sloss
Fellow Scot, Daniel Sloss has shot to stardom at a very young age of 22. He has appeared on all the main chat and comedy shows in the UK and regularly sells outs on tour and has done for three years at the Edinburgh Fringe Festival. Daniel is fresh, brings interesting set topics with a focus on his age and what a young twenty year old guy gets up too. See Daniel's YouTube channel here for clips of his TV performances.
Keen to go to the Fringe Festival? It's on from the 2nd to the 26th of August this year. Check out edfringe.com for more information.
This guest post was provided by Chris Moshi of My30sTravelBlog.com
The boy with tape on his face by failing_angel
Lady Boys of Bangkok by Lady Boys of Bangkok
Felicity Ward  by Eva Rinaldi Celebrity and Live Music Pothographer
Daniel Sloss by GuerillaFilm