Published on May 21, 2015 | by Georgina Porteous
Why May is a Great Time to Visit Ibiza, the White Island
Situated in that golden period between the launch of the party season and the beginning of the school holidays, May is an ideal time to take a trip to Ibiza.
Lacking the intense, fatigue-inducing heat of high summer, or the chill sea breezes of deepest winter, temperatures in late spring tend to hover around the mid-twenties: perfect for everything from lounging on the beach to exploring the island's breathtaking countryside. Of course, the biggest draw at this time of year is undoubtedly the opportunity to attend one of Ibiza's renowned opening-night parties, which see the resort-towns of Playa d'en Bossa and San Antonio burst back to life after months of hibernation.
From Pacha to Space, from Es Paradis to Ushuaia, all of the clubs mark the start of the season in typically hedonistic fashion, each vying for the affections of the music-lovers who flock to the island every May. Hosting a successful opening-night can help a club generate the buzz necessary to maintain a steady stream of guests through the summer, and many show off big-name DJs and newly refurbished areas at these events in order to set themselves apart from their competitors.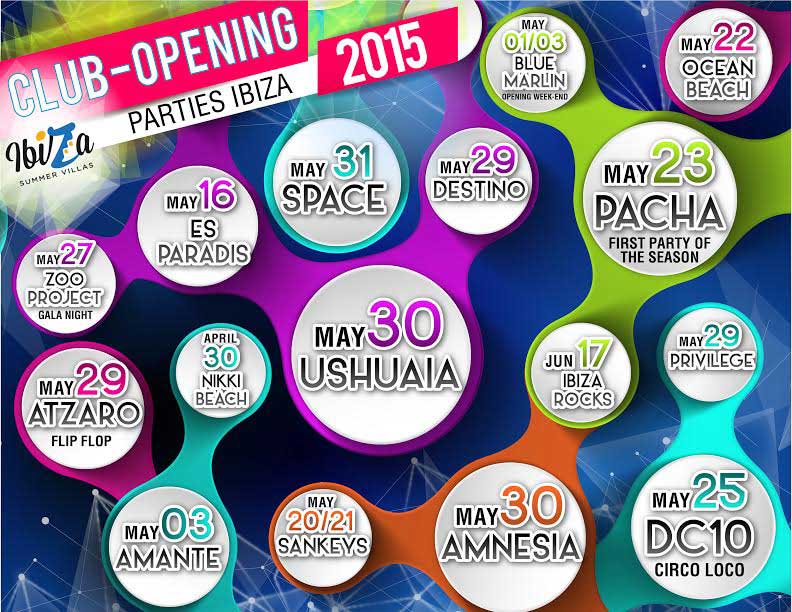 If partying into the wee small hours isn't really your scene, there are plenty of other reasons to book a trip to Ibiza this year, and the White Island has much to offer those who are willing to look beyond the glitz and glamour of the big resort towns. For starters, the rugged cliffs, secluded coves and dense pine forests of the north make for great hiking and mountain-biking terrain, while the southern coastline affords the opportunity for water-sports such as diving, sailing and windsurfing. Head inland and you will have the chance to discover charming little villages where the pace of life is more relaxed than that of the bustling clubland hotspots, allowing you to experience a side of Ibiza you don't often read about in the newspapers.
Recent years have also seen a number of world-class chefs arrive on the island, putting paid to the notion that Ibiza has little to offer the gastronome besides cheeseburgers and full-English breakfasts. Perhaps most notably, Ferran and Albert Adrià – the brothers behind the renowned El Bulli in Catalonia – are set to launch a new project on Ibiza in partnership with the Cirque du Soleil, combining visual spectacle and haute cuisine in a format that has been the subject of much speculation in the international media.
As one of the busiest periods in the Ibiza calendar, May is also a great time to pick up a deal on accommodation, with hotels and letting companies jostling for the business of new and repeat visitors to the island.
Whatever type of holiday you have in mind, whether you are travelling with friends or family, if you are looking for a spot of pre-summer sunshine, Ibiza is pretty tough to beat.