France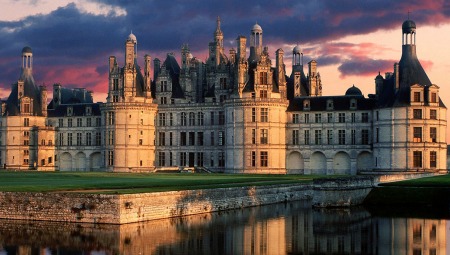 Published on March 27, 2012 | by Francy
0
Loire Valley a fairytale land in the heart of France
Thousands of visitors come every year to explore the fantastic Loire Valley, a charming land of vineyards, flowers and rolling green hills. This enchanting place is often called the Garden of France, or the Valley of the Kings, or Country of Thousand Castles. Whatever, this is one of France's most captivating regions.
This garden region of France is nourished by the Loire, Eure, Cher and Loiret rivers, and it boasts beautiful gardens, well maintained and manicured by generations of talented gardeners. The Loire Valley is also called the Valley of the Kings due to the presence of many historic castles, but also manors , private castles, Châteaux Hotels ,"Self Catering" Castles, towers, bastions, fortified farms, you name it.
During the Renaissance period, "the Garden of France" was the favorite residence of Kings of France. This is why they turned it into a setting for day dreams. Even the Emperor Napoleon's wife had a chateau here, of course! When the kings chose to bring their courts to the Loire Valley, they built wonderful castles and mansions and used to commission the best and most famous artists to decorate them. Among these, also Leonardo da Vinci, who actually spent the last years of his life here (his tomb can be found in the Saint -Hubert Chapel in Amboise.)
Not only Royal Castles and Renaissance Palaces. There are more than a thousand castles throughout the valley, ranging from ruined castles to mansions still inhabited by it's owners. More than 60 of the Loire castles are open to visitors.
The best advice is to drive at random in the Loire Valley, across Touraine, Sologne, Poitou, Berry, and discover the more you can.
However, here's a shortlist of the not-to-be-missed places, just in case!
Chartres, with its world-famous Cathedral which Rodin called the Acropolis of France, a remarkable testament to medieval architecture.
Orléans, the city liberated from the British by Joan of Arc in 1429. Here you can visit the house in which the heroine stayed during the siege of Orléans and the Gothic Cathedral of St-Croix. Nearby, you can visit the castles of Chamerolles and Sully-sur-Loire. Don't miss Le Parc Floral de la Source, located in the southeast corner of Orléans.
Bourges, a rich historical town right in the heart of France. Places of interest to visit in the surrounding area are the château o' Meillant, George Sand's House in Nohant, and Noirlac Abbey. And of course, Sancerre and its famous white wines.
Chambord is the largest of all the Loire Valley castles, built by François I, with 440 amazing rooms and surrounded by an immense park. Nearby, you can visit the beautifully furnished Château of Cheverny.
Last, but actually first, here's a word game for you: Tours. A busy university town and, what a coincidence, the traditional point of departure for exploring the Loire Valley. During the Middle Ages, it was one of the great pilgrimage sites of Europe, and is currently renowned as a famous wine region, especially Vouvray, Chinon, Bourgueil…