Food & Wine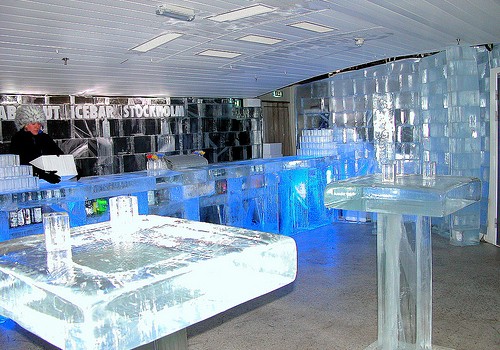 Published on September 5, 2013 | by Daniela
3
Ice hotels and ice bars in Europe: a chilly guide
Yes, we are at the end of summer season, and there are people who "shake" at the thought that the cold season is around the corner. We're talking about those people who love Cold, and are literally attracted by snow and ice.
For all those people, but not only, of course, we have prepared a fun guide on the Ice Hotels and Ice Bars around Europe excluding all the ski resorts and natural wonders, from glaciers to snowy mountains, which are jealously protected in the Old Continent.
Ice bars around Europe
An ice bar is a drinking establishment primarily made of ice. They usually contain ice furnishings and majestic ice sculptures, and cocktails are served in glasses molded from pure ice, all is kept at low temperatures to hinder melting. Although being a Bar to all intents and purposes, the ice bar is often considered a tourist destination. There are many Ice bars around Europe, especially in the coldest areas, as Stockholm or Oslo, but all the major cities host one as well, from Barcelona to Amsterdam or Milan. Here are the three Ice Bars we have selected for you.
Absolut Ice Bar London is the UK's only permanent bar made of ice and is kept at minus 5 degrees all year round. Located on bustling, vibrant Heddon Street, this bar is operated in 40 minute time slots and you will be given a thermal cape to keep warm during your visit.
Icebar by Icehotel Copenhagen is located in Hotel 27, a few, icy steps from the busy main street 'Ströget' and offers an exclusive menu consisting of not only tasty and refreshing ice drinks but also appetizers with arctic flavours.
The latest Ice bar in Europe opened last September 28th, 2011, this is the Icebar by Icehotels Istanbul: a successful attempt to join the Arctic and the Orient.
The most famous Ice Hotels in Europe
Sometimes associated with Ice bars, Ice hotels are even more thrilling and fascinating. They are temporary buildings made up of snow and sculpted blocks of ice and draw attention especially among travellers who are on the lookout for unusual environments and "shaking" experiences.
Existing each year between December and April, the Icehotel in the village of Jukkasjärvi, Sweden, was the world's first ice hotel. The entire hotel is made out of snow and ice blocks taken from the Torne River – the same ice is used for creating Ice bar designs belonging to the Icebar by Icehotel chain – and each summer, the loan is given back to the river, to turn once again in fresh, flowing water…
Also Norway hosts a couple of charming icy accommodation. At the Kirkenes Snow Hotel, for example, you will enjoy a special dinner prepared on an open fire, and there's also a reindeer park and a husky farm in the area. Moreover, Sorrisniva Igloo Hotel, Alta, is Europe's northernmost ice hotel, 250 km away from North Cape. Besides the bedrooms, the hotel also contains an ice bar, an ice gallery, and an ice chapel!
From a room, to a home, and then up to… a whole village! Welcome to Lainio Snow Village, in Ylläsjärvi, Finland, built entirely of snow and ice, covering an area of approximately 20,000 square metres. The annual construction of the Snow Village begins usually at the end of October, to be ready by December. Inside, visitors can find the biggest ice dome of Europe, an à la carte restaurant with ice carved tables, a bar, but also snow galleries full of beautifully illuminated ice art. They can also spend a night in one of the 30 rooms available (both cabins and suites,) all made of snow and ice.
When the night falls, you can enjoy exciting events in the IceBar or head out for a snowmobile safari under the Lappish night sky. For wedding couples, Snow Village offers remarkable settings for an unforgettable day of ceremony and celebration, including a pretty ice chapel. Finally, a warm subterranean floor is equipped with sauna, bathroom facilities, and a large fireplace room. Snow Village will remain open daily from 10:00 to 22:00, until April 15th, 2012. Entrance fee is 10 €/adult, 5€/child (4-14y.)
Photo by AntoniO BovinO