Festival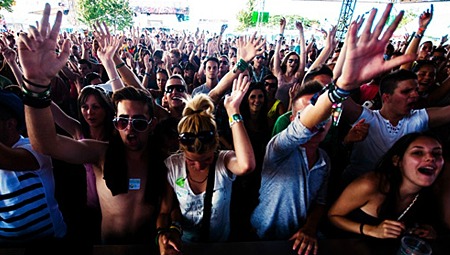 Published on March 7, 2012 | by Francy
0
Hungary events: Heineken Balaton Sound Festival is on the way
Lake Balaton – the largest lake in central Europe – is situated inside the wine-growing area of Hungary, about 90 minutes drive away from Budapest. This cozy tourist resort is going to be the background to one of Europe's largest open-air music festivals this summer: Heineken Balaton Sound Festival, to be held between July 12 and 15, 2012.
A great location – Hungary's fanciest beach, Zamárdi. The tourist resort offers a great variety of seaside lounges, restaurants, bars and anything you need to enjoy the Balaton sunset, plus, from July 12 to 15 this year, a great number of stars on several stages, promising four days of lake-side partying and incredible music: that's the already beloved concept of Heineken Balaton Sound. In fact, during the days of Heineken Balaton Sound Festival, as the night falls, the beach turns to an amazing dance floor, and headliner DJs and bands take the stage.
You may be thinking: "There are still months to go!"
The most passionate fans of the genre, certainly know why we are talking about it at this time. In fact, given the exceptional nature of the event, tickets are nearly sold out. However, you can still find tickets and pre-sales, even online. Tickets are available from EUR 45, and Festival Passes from EUR 110.
The sixth edition of this great festival, organized by Sziget Cultural Management, promises, as always, a wide choice of musical programs. There will be 8 stages and venues blaring with beats from the most commercial to the most progressive tunes, a wee bit of dancing every 50 meters, only two minutes walk from the beach.
Performers of the caliber of Snoop Dogg, Mika, The Chemical Brothers, Jamiroquai, etc. have made famous this festival throughout the world since the first edition in 2007.
With the first names for 2012, including Avicii, Example, Gossip, Sasha, Björk and many others, Heineken Balaton Sound will prove once again to be the best electronic music festival in the country, bringing new faces and old favorites, and, of course, the most regular Balaton Sound-goer of all, David Guetta.
The one thing that mostly stands out when speaking of Heineken Balaton Sound, is undoubtedly the fact that the place looks beautiful and that people start their beach party wearing bikinis and swim suits! The atmosphere is truly unique: despite the large number of music stars concentrated in one place, people mainly come to see their friends and to party, not actually to see artists, so the whole day and night is relaxed, with no pushing and… lots of front row places available! Of course, much depends on whether you accept to do the same on your side