Food & Wine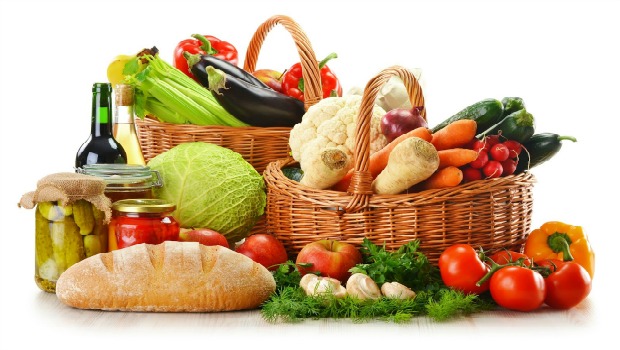 Published on April 16, 2014 | by Giorgos Portokalakis
0
Discovering Greece's Vegetarian Vegan Tastes
Greek vegetarian vegan tastes are simple, and when someone wants to sense their identity, then they need to visit Greece. If you've never walked under the warm and bright sun of Greece, nor sat under an olive tree, smelled fresh thyme, oregano, sage, experienced simplicity over complexity, then it would be difficult for you to sense and comprehend the superiority and uniqueness of Greek vegetarian vegan food, diet and lifestyle.
Greece's bright blue sky, the serenity of its sea, and the fact of being at the crossroad of three continents, have always attracted people from around the world and even in ancient times great Mediterranean civilizations endeavored to establish political and economic dominance (or relations) with the Greek world.
As a result, over the centuries Greece has inevitably become a melting pot of cultures, foods and civilizations. Ancient Greeks had, and still have, that certain superiority over its neighbors that not even the mightiest Roman and Ottoman empires could overwhelm.
This superiority allowed them to guard their traditions and look after what was really important and valuable to them, even adapting foreign habits and inheritance to their culture and lifestyle. This is the environment where their admirable diet was created, becoming an important part of their daily life.
Greek cuisine boasts delightful, tasteful, light and healthy ingredients that are supported by the climate and nutritional elements of the land. The sun and salty sea play a key role in the growing process of agricultural products, with unique beneficial effects on crops. And of course, raw materials are fresh and rich in nutrients, but no one can neglect the importance of recipes. They have always been passed down by word-of- mouth, from mother to daughter, from neighbor to neighbor.
The Ancient Greeks discovered the therapeutic properties of greens and herbs. Many Greek philosophers recommended a healthy and balanced diet to heal diseases and pain. Greeks have always used a great variety of greens, herbs and vegetables in their diet and today's Greek "cookery books" include more than 2.500 vegetarian and vegan recipes.
Many vegetarian dishes are served as a healing method for chronic diseases, or to contrast severe adverse health effects. Let's have an overview of the most important ingredients you'll find in the main recipes
Pulses
Pulses and especially beans were and still are one of Greeks' favorites, maybe more in the countryside than in the big cities nowadays. In the past, beans were even considered Greece's most representative dish, like pasta in Italy.
Spices
Who can ever imagine Greece's countryside without the smell of thyme, oregano, and sage? And the famous Greek salad would never be so fragrant without its fresh oregano!
Olive Oil
Bread with olive oil is still today a favorite snack for kids in Crete and Mani regions. From the Food science perspective, olive oil has a great content of unsaturated fatty acids that contribute in lowering cholesterol levels (HDL) in blood. Therefore, as Greeks use mostly olive oil in their diet (extra virgin olive oil) they have a natural and unintentional protection against cardiovascular diseases and in some cases against some forms of cancer.
Bread
Bread was and still is the main daily constituent of Greek diet. It also has a distinctive place among festive recipes. It takes many shapes and is often "disguised" with particular names inspired by tradition and according to different recipes.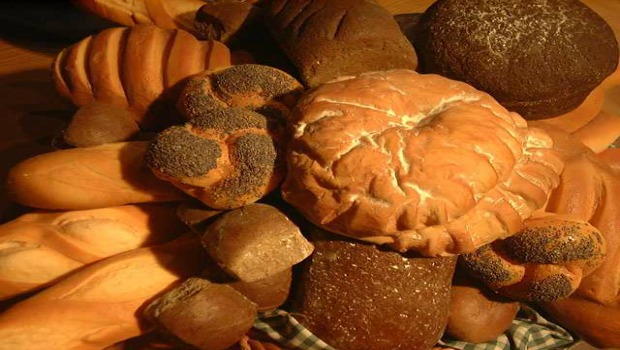 Shape, baking process, and flour type largely define the bread type:
APOPYRIAS: Bread cooked in the ash
KLIVANITIS: Bread cooked in a mould
STREPTIKIOS: Braid-shaped Bread
SEMIGDALITIS: Bread made of semolina
VOTINIOS: Mushroom-shaped Bread
Ancient theatrical plays, poems, historical and mythological records, describe how bread, greens and vegetables and olives were the primary foodstuffs in Greek diet while dairy products were served as a supplement.
Cheese
The first recorded cheese manufacturer in Greek History was Cyclops Polyphemus from Homer's Odyssey poem. Odysseus tried to steal food from his cave and found several cheese types ripening. Fresh unpasteurized cheeses like mizithra (white soft cheese) are some of the main dairy products made in Greece and still produced and consumed today. Also sour cheese is greatly appreciated in Greece nowadays, it was first created by accident as fresh cheese was forgotten and left to sour.
Traditional Greek Dishes
Ever since, Greeks unwittingly follow the rules of simplicity and temperance using countless combinations of greens, herbs and vegetables, eating vegetarian dishes that retain the aroma of tradition, foods rich in taste and flavor but also helpful for a balanced and healthy diet.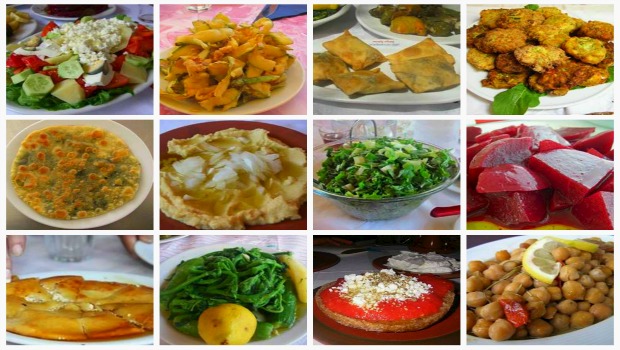 Here is a selection of some of the most famous and traditional dishes you can't fail to taste while visiting Greece!
Prasyni salata – Greens salad: Greens from the mountain, salt, onion, pepper, olive oil
Horta vlitta me Kolokythia Vrasta: Boiled wild greens vlita with zucchini and potatoes, fresh lemon juice and raw olive oil
Gygantes fournou – Oven roasted big white beans: white big beans, tomatoes, parsley, salt, pepper, olive oil.
Fava – Yellow split pea puree: Puree, olive oil, onion
Koukia xera – Broad bean puree: Broad bean, salt, olive oil, lemon
Gemista – Stuffed vegetables with rice: Tomatoes, peppers, eggplants, zucchini squash, onion, parsley, olive oil, salt, pepper
Kolokythoanthi – Stuffed zucchini Flowers: zucchini flowers, tomatoes, onions, parsley, rice, salt, pepper, olive oil
Dolmades – Stuffed vine leafs: vine leafs, rice, onion, olive oil, tomato, salt, pepper
Pantzaria – Beet salad: Beets, salt, olive oil, vinegar, garlic
Kolokythakia tiganita: Fried courgettes
Dakos: Rusks with fresh tomato, olive oil, feta cheese and oregano
Hortopitakia – Small pies with greens dough: water, salt, olive oil, lemon juice, flour. Filling: greens like spinach, fennel, mint, parsley, leeks, spring onions, olive oil, salt, pepper
Marathopyta – Fennel pie
Myzithropita me meli – Cretan soft cheese pie with thyme honey
Tiganites me Petimezi – Cretan pancakes with grapes syrup
Horiatiki – Greek salad: tomatoes, cucumbers, green pepper, onion, olives, olive oil, vinegar, salt, oregano
Briam – Baked summer vegetables: Zucchini, eggplants, potatoes, peppers, tomatoes, onions, parsley, olive oil, salt, pepper;
Kolokythokeftedes – Courgettes patties: Zucchini squash, onions, toasted bread, salt, pepper, flour, olive oil for frying
Revithia – Chickpeas in flour lemon sauce Chickpeas, olive oil, onion, salt, pepper, flour, lemon juice.