Festival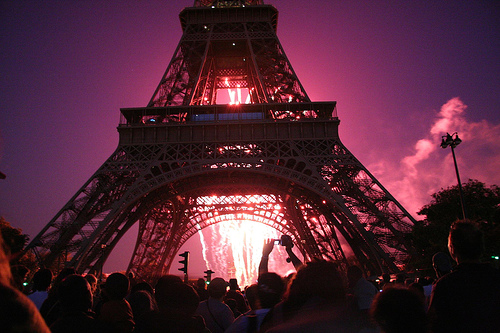 Published on June 23, 2011 | by Andrea Guerriero
0
Get ready for Bastille Day In Paris
Paris, beautiful and romantic destination for many couples of lovers and fans of culture. The air we breathe is quiet and relaxing, but when it comes to July 14, the city turns into an explosion of colors and festive lights: this is the Bastille Day.
One of the best periods to visit Paris is without a doubt, July 14. That day is a National Holiday, commemorating the storming of St. Anthony Bastille – built in the second half of 1300 by Hugo Aubriot to be a fortress of Paris and then converted into a state prison – by more than 45,000 people, to stop the tyranny and despotism of the French authority, so ending the monarchy and marking the beginning of the French Revolution.
In France, this day is formally called La Fête Nationale or, more commonly, simply the Quatorze Juillet.
The event begins on the night of July 13, with a torchlight procession. On the morning of the 14th, starting at around 10, the Champs-Elysées are tinged with red, white and blue, giving start to the official celebrations in the presence of the President of the Republic and the highest offices of state. The members of the military march in a parade from Place de l'Étoile to Place de la Concorde while the Aircraft of the Patrouille de France aerobatic team draw the colors of the French flag in the sky.
Finally, after dancing, ceremonies and celebrations, at around 10pm every Parisian and tourist guests move to the Champ de Mars to enjoy the fireworks show that illuminates the Eiffel Tower.
The festivity retains some very traditional elements – like the great parade starting at the Arc de Triomphe, and up to Place de la Concorde, with cadets from the École Polytechnique, Saint-Cyr and the École Navale, sided by infantry and motorized troops and the above mentioned air force in the sky – but many elements and customs have been changed over time, especially with respect to the behaviors of the president. For example, President Nicolas Sarkozy has chosen not to give the usual interview to members of the press, to discuss the situation of the country, recent events and projects for the future, and since 2007 – the year of his election – he has stopped the practice of pardoning criminals and offenders on 14 July. However, the President still holds a garden party at the Palais de l'Elysée.
Nowadays, where once stood the Bastille, there is the beautiful square bearing the same name. But Paris is a city of great cultural tourism, where the corners to be discovered are endless. In addition to the places where you will be to attend the celebrations of Bastille Day, other must-see places in Paris are the Louvre Museum, Notre-Dame de Paris and the magnificent Jardin des Tuileries.
Photo by irene.