Festival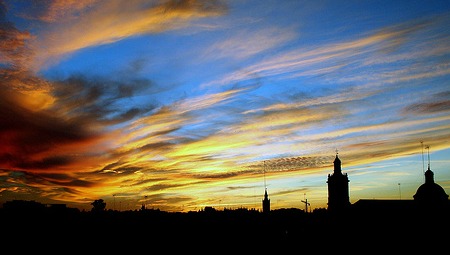 Published on March 28, 2012 | by Andrea Guerriero
0
FeMàs: Old Music Festival in Seville
Throughout March, Seville pays homage to early music, a tradition that has deep roots in the city's history, as well as the rest of Andalucia. There's still one week left to enjoy FeMÀS (March 9 to 31, 2012) Seville Ancient Music Festival, consecrated to the rescue and diffusion of historical music.
Seville, capital of the autonomous community of Andalucia, the city that never sleeps. Enchanting in the morning and electric at night. Art, culture, fun and food. This is a place with something for everyone, where any occasion is a good reason to celebrate.
Over 3,000 festivals are annually celebrated in Andalucia, including fairs, pilgrimages, carnivals, and religious processions, throughout the some 800 communities of the region. The Semana Santa and the Feria de Abril stand out among the major fiestas in Seville, and are both infused with a strong sense of tradition.
Speaking of culture and tradition, music – ancient music in particular – occupies a special place in the heart of Sevillian people.
Thus, the famous Ancient Music Festival, known as FeMÀS for short, is back again this year at its twenty-ninth edition. The whole month of March (the festival will officially end on the 31st) has been full of early music concerts held throughout the city, to the enjoyment of the many fans of the genre. This festival is one of the most important of Spain and is increasingly gaining importance at European level: it brings together Seville and Spanish people, as well as a diverse international audience.
The Festival de Música Antigua de Sevilla is mainly consecrated to the rescue and diffusion of historical music, in the name of a musical tradition that must be preserved and taken to new and young ears.
The Ancient Music Festival in Seville consists of 26 concerts and also includes a week dedicated exclusively to the Vihuela guitar and early plucked strings, important homage to these classic recognized instruments. An important exhibition of luthiers works from around the world, has been held in the famous Santa Clara of Seville from March 15 to 18. Too late, but there's still much more to enjoy.
There are still many concerts on the calendar, which are held in various venues around the city, including the churches of S. Albert and S. Anna. Worth a mention the concerts by Artefactum (March 29 and 30, Accademia Del Piacere (March 30) and Orquesta Barroca de Sevilla & Raquel Andueza & Christophe Coin (March 31.)
Ancient Music, but keeping an eye on the future. In fact, the Festival is also devoted to promote talents. Therefore, groups like the above mentioned Artefactum or Accademia del Piacere y Ottava Rima, but also More Hispano, will be perfoming at the many scheduled concerts, along with solo singer including Andrés Cea, Miguel Rincon and others.
Take part for your chance to attend one of the most important ancient music festivals in Spain. You have time until the end of this month!
Hope to see you there 😉
Photo by desbyrnephotos