Shopping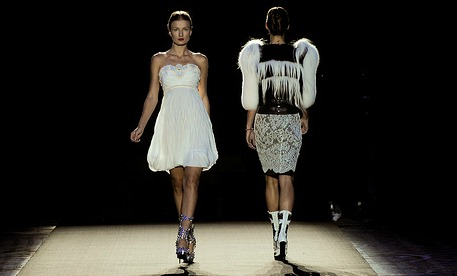 Published on February 28, 2013 | by Daniela
0
Milan Fashion Exhibitions
Milan fashion week is over, and the catwalks where the latest fashion trends for the upcoming seasons have been presented, are already empty by now. Yet the Milanese chapter devoted to fashion does not end with top models and designers getting back home from the fashion shows, it will continue at Fieramilano instead, with 4 fashion exhibitions. March coincides with a renewed enthusiasm for new looks. Looks made up of particular accessories and clothing that express personality, which stand out for their originality and sophistication.
Well, in order to give the public the chance to choose models and designs of fashion accessories that suit their style and especially 2013 trends, four important apparel and accessories exhibitions are taking place at Fieramilano simultaneously from March 2nd to 6th: Mido, International Optics, Optometry and Ophthalmology Exhibition; Mipel-International Leather Goods Expo; theMicam-International Footwear Exhibition; and Mifur-International Fur and Leather Exhibition. A unique opportunity to get to know the next fashion trends and get an early peek at future trends for the coming seasons.
Mido: International Optics Exhibition
The appointment with fashion accessories for the 2013 -2014 season begins with Mido, Fieramilano, March 2 to 4. Mido is the International Optics, Optometry and Ophthalmology Exhibition, that is, the exhibition dedicated to the world of eyewear. Something that is more than just an accessory to many: "Oh, I want mine to wear glasses. Men who wear glasses are so much more gentle and sweet and helpless," said Sugar / Marilyn Monroe in "Some Like It Hot." A good reason for gentlemen, then, to visit Mido. Ladies, of course, need no excuses. Mido is an annual event, a leading trade show for the eyewear industry, where one can find anything conceived, designed and manufactured by leading brands in the world of fashion. Mido is also a sort of catwalk for many celebrities who love to be seen wearing new frames and hi-tech glasses.
From March 3 to 6 there will be a crescendo of events with three exhibitions taking place at the same time: Mipel, theMicam, and Mifur.
Mipel: The Bagshow
Since 1962, Mipel – International Leather Goods Expo, is the main Italian trade show, and one of the largest of its type in the world, for the leather-goods industry, thus including luggage, bags, wallets and accessories. The aim of the event is to promote "Made in Italy" leather goods with exhibitors, importers and major brands of international distribution. Mipel is a good opportunity to immerse yourself in a world of valuable objects, all refined and unique. Unique as are women's bags and purses, because as says Fabio Volo, "There are beautiful love stories on the bottom of purses, between cigarette packs and keys, that's why sometimes it's so hard to find them, just because they try to hide to stay there."
theMicam: Footwear on display
The new theMicam brand of this International Footwear Exhibition, represents a major change in the ways this event is being emphasized and promoted at an international level. No longer just a biannual appointment with shoes, but rather a reference point for the footwear industry. TheMicam is still trademark of ANCI, the National Association of Italian Footwear Manufacturers, which has always been in charge of the organization of Micam ShoEvent. As always, at the show visitors can see and try on all the latest products for men, women and children. One of the biggest novelties for the 2013 edition, has to do with scenic design: entertainment shows with music by Mabò Band will be set up along the path that leads to the children's footwear area, as well as lovely gags performed by FNC Clown Doctors (National Clown Doctors Federation.)
Mifur: International Fur Trade Show
Mifur – International Fur and Leather Exhibition, closes the circle of the early March trade fairs at Fieramilano. The first edition of Mifur took place in 1996, organized by AIP, the Italian Fur Trade Association. Mifur is another event dedicated to fashion and accessories designed for a medium-high target market. The usual prestigious events, graced by celebrities from the world of entertainment and fashion, will take place during the day of the exhibition.
With these fairs to be held in March at Fieramilano, we can say that the new fashion season has begun! From now on, especially the gentle ladies, can start deciding what will their fashion style be like for the next twelve months. Because even when it's "casual," nothing must be left to chance.
Photo by World Fashion Group