Wellness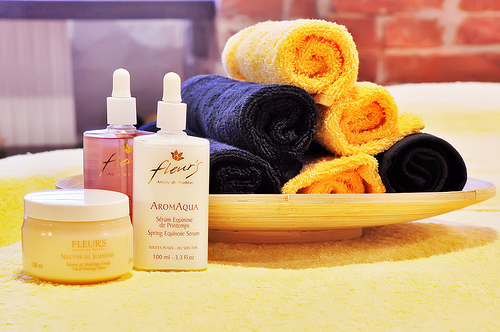 Published on January 27, 2012 | by Elena
1
Europe's most beautiful Spa, is in Rome!
Imagine that pure relaxation on Friday evenings soaking in your bath tub. Treacherous. Closing your eyes you're already imagining yourself in a true spa, pampered by magic healing waters and delicate massages. And what if, instead of a normal spa, you get to imagine something really super? Today we want to introduce you to the most beautiful spa in Europe: the "Grand Spa Club" of the hotel Rome Cavalieri, by Waldorf Astoria Hotels & Resorts, which is in Rome, of course, Italy.
A survey conducted among the readers of the famous magazine "Travel & Leisure" has revealed that "Grand Spa Club" of the Rome Cavalieri hotel is the best Spa of the Old Continent, for both the structure and the treatments provided, and its price/quality ratio.
We wanted to discover what has made this wellness center worthy of the "Travel&Leisure World's Best Award," and so we got there to look at it closely (now don't get me wrong… we did it just for you!)
The first thing that strikes you as soon as you enter the "Grand Spa Club" is how Rome Cavalieri hotel has managed to recreate the style of the ancient and famous roman baths, on a space of approximately 2,500 square meters, enriched with great works of art such as those by Giambattista Tiepolo and Andy Warhol.
Enclosed in a huge estate of lush Mediterranean parklands, only minutes from Rome's greatest landmarks, this luxury hotel is a peaceful run away right in the heart of the Eternal City, much more than a simple 5 star hotel: it has literally brought new meaning to the notion of Italian style, and exclusive hospitality.
The hotel's Grand Spa provides a distinctive range of treatments from around the world, from Shiatsu massages to Ayurvedic healing. These are complemented by a more conventional menu of treatments including saunas, manicure, swimming and tanning. It also hosts an amazing Turkish bath, with marble platforms and Roman mosaics, where you will enjoy hot and cold plunge pools.
Even fitness finds its own place in here. Pilates and Yoga rooms, a fully equipped gym, tennis courts and a fitness circuit, are all part of the Rome Cavalieri hotel's offer, meant to provide guests with the very best spa and leisure facilities.
Finally, to complete your day at the Grand Spa, you can enjoy the Relaxation Lounge, a charming rotunda in the style of Ancient Rome, with fabrics, mosaics and cushioned divans on which you can recline like an emperor.
Not only the first in Europe. Rome's "Grand Spa Club" just missed the podium as the fourth place in the world, after equally wonderful Spas located in amazing countries including New Zealand and Jamaica. Italy as the homeland of the most beautiful Spa in Europe; Rome, the Eternal City, among the most visited in the world.
We can tell you about it, but seeing it and experiencing it is something else. Now open your eyes. You're still in your tub… But you're still in time: in the end, "All roads lead to Rome"!
Photo by Unique Hotels Group