Summer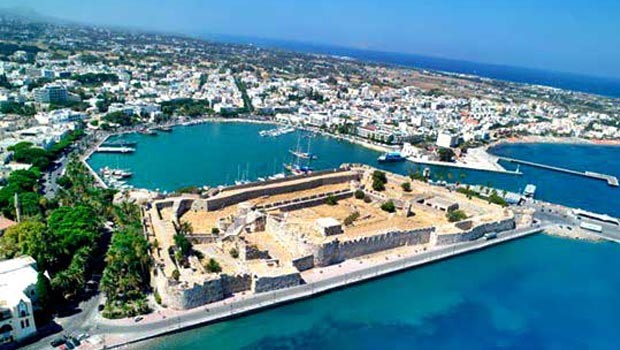 Published on June 13, 2011 | by Andrea Guerriero
0
Enjoy your evenings in Kos
Beautiful beaches, lovely villages,stunning landscapes and a lively night life: welcome to Kos, the capital and main port of the homonymous island in the Greek Dodecanese archipelago.
Kos Town is built around its port – with the fortress of the Knights of St. John in the background – in a maze of narrow streets which join up at the characteristic mosques Deftedar and Hadji Hassan, behind the ruins of the ancient Agora.
After spending your day at the beach – the major are Agios Stefanos, 38 km from Kos Town and Kardamena in the south of the island, well equipped and ideal for fishing, in an area full of accommodation, taverns and bars – or after visiting the magnificent sights in Kos – from the archaeological museum to the famous temple of Asclepieion 4 km north-west of Kos, enjoy your evenings delighting your palate in one of the many traditional taverns and restaurants where you can taste great meat and fish specialties and then carry on outdoors or in the many clubs of the island: the choice is very wide.
Kos has many restaurants with live music, cinemas and bars. Many taverns propose live Greek Music and the possibility to see or dance it. They are open until 2 am.
Eating out is not very expensive here, so the Greeks often go out also during the week, usually starting from 10 pm. Among the most popular venues, worth a mention the Avanti Restaurant, Olimpiada, Taverna Nikolas or the Ariadni.
The peculiarity of these taverns, which gives the dinner a more familiar ambiance, is the custom to order several courses, that are served in large single plates, to be divided among the commensals; food is often accompanied by ouzo, mixed with water or local wine.
For an aperitif or after dinner, Kos boasts the presence of countless bars. In the capital town, they are mostly concentrated in the areas of Diakon and Naykirou. All bars are open until late but for those revelers who never get enough there are also a number of night clubs – especially in the tourist areas of the island – where you can dance and have fun until morning after.
Like at the cosmopolitan nightclub Heaven, in the Lampi area, and the open-air West Bar, or the Camel bar, in the port of Kos, which offers stunning panoramic views, the Limit Bar, right in the centre of the island and, finally, Ronnies Bar located in Kardamena, near the town hall, which is open all day – coffee and drinks in the morning and unique cocktails in the evening.
Worthy of note, before concluding the list of locations for your nights in Kos, is an outdoor cinema called Orpheus, located in Kos Town. Won't you bet that wherever you choose to go, your night in Kos will be full of surprises and great moments?
Photo by Eric Borda