Internet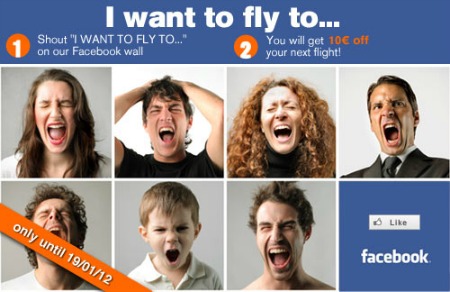 Published on January 14, 2012 | by Elena
0
Enjoy 10€ off your flight by "shouting out" your favorite destination
"Where do you want to fly? Shout it out!" is the slogan of Traveleurope's latest promotion, launched on January 12, and valid until January 19. Just click "like" on Traveleurope's Facebook page, if you're not already a Fan, and write your preferred destination on the Wall: you will automatically win a 10 Euros discount for booking a flight. A truly unique opportunity, to shout out to the world your wish to travel and save on the already discounted rates of Traveleurope Flights.
"Shout it out" is Traveleurope's latest initiative to endear customers to their Facebook page, and provide them with a discount on flights.
The discount coupon is very easy to redeem. Here are the steps to follow:
1) go to Traveleurope's Facebook page
2) click on the "like" button, if you are not already a fan
3) write on the Wall: I want to fly to… (your preferred destination)
… and you're done.
At this point, every day at noon, ALL USERS who have "Shouted" their favorite destination on our Wall will receive a personal message through Facebook containing the discount code and instructions to use it.
The coupons are not cumulative, so if you want to fly with … your family, your beloved, your friends, work colleagues, people you hope will get lost during the journey, football team fellows, friends of the bridge club, parishioners, good friends-of-friends, disposable toy-boys… you have to send them to Traveleurope's Facebook page and make them SHOUT!!!!!!.
If you don't shout… you can't fly out!