Italy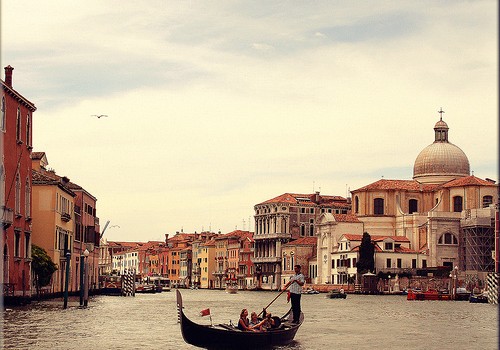 Published on September 14, 2011 | by Andrea Guerriero
0
Engrossing attractions in Venice
Venice, born from sea foam as was Venus, the splendid goddess of beauty. And from that same sea arrived ships loaded with spices, precious fabrics and treasures that have made this city even more beautiful. If you want to visit Venice and have little time to do so, follow our advice and you will be sure not to miss the most fascinating things of this charming city and discover its most peculiar aspects!
Major attractions in Venice
Venice was built on the water and rests upon forests of piles, installed centuries ago to support it. Most attractions are concentrated in the historical centre, right around the outstanding Piazza San Marco. Singular case in Venice, St Mark's Square is the only large open space called 'Piazza', while all other open spaces are called 'Campi'.
Standing at the centre of Piazza San Marco, you will see in clockwise order: St. Mark's Bell Tower, the New Procuracies, the Napoleonic Wing, the Old Procuracies, the Clock Tower, the Patriarchal Palace, and the Doge's Palace – here, entrance is with fee and the ticket includes a visit to the famous prisons, which you can reach only passing through the Bridge of Sighs. And then of course St Mark's Basilica – recognized as one of the most beautiful Italian churches.
However, the best time to enjoy Piazza San Marco is in the evening or early morning, when it is empty. You will be delighted by its embrace, by the perfection of its harmonious shapes, all immersed in an unreal silence which will make your experience particularly magic.
The gondola trip
No tour of Venice would be complete without taking a graceful glide down one of the city's picturesque waterways in an authentic Venetian gondola. A 40 minute trip costs around € 80 from 8am-7pm, € 100 from 8am-7pm. Or, an alternative and cheaper way to visit the Grand Canal and admire the beautiful palaces is the Boat Tour by "Vaporetto", the main thoroughfare of Venice.
Getting lost in Venice
However, there is nothing better than getting lost in Venice, wandering with no specific destination through its narrow alleys and Campi. Anyone ends up to this, even if they don't want to, without even realizing it. Wandering at random through the city, you will come across numerous and fascinating markets, palaces and Venetian churches, small courtyards, which will reveal the less known part of the city. Let yourself be soothed by the magical imperfection of the streets of Venice and the magic of its captivating atmosphere. Who knows you may fall in love…
After all, falling in love in Venice is not that difficult, you are in the city of love!
Photo by WTL photos