Festival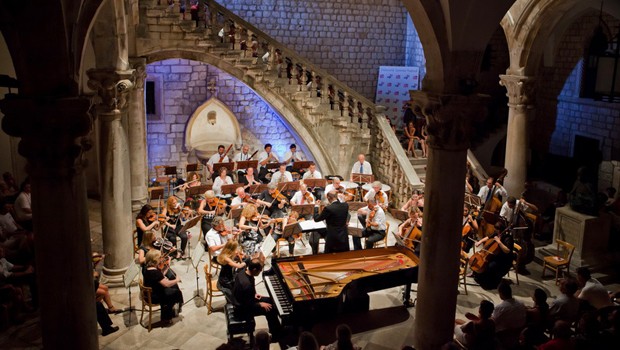 Published on May 12, 2011 | by Andrea Guerriero
0
Dubrovnik Summer Festival
The Dubrovnik Summer Festival is the oldest cultural event of Croatia. The 62nd edition of this huge happening will take place from July 10th to August 25th in Dubrovnik, with a rich and varied program in the fields of theatre, ballet, classic music and opera.
Dubrovnik is located on the southern tip of Croatia, and is undoubtedly one of the most fascinating cities in Europe. A maze of streets, alleys and splendid churches and palaces. In summer, most of these places will host a not-to-be-missed event that happens every year since 1950: the Dubrovnik Summer Festival.
The principal is the square before Sponza Palace, the venue of the opening ceremony of the festival, where actors dressed in the costumes of the Rector and the Dubrovnik aristocrats evoke the past of the manifestations and the freedom of the Dubrovnik Republic. Other venues are the Dubrovnik Art School – named after Croatian composer Luka Sorkočević, and Bošković Square – situated within the City Walls, in front of Jesuit Church.
Other performances will take place at the foot of Minčeta Fort – a magnificent round fort with massive basis in the form of a covered bulwark; in the Atrium of the Rector's Palace – especially used for classical concerts and recitals; in front of the monumental baroque Church of St Blaise and at the open air cinema Jadran – a unique stage for film projections.
Dubrovnik Summer Festival offers orchestral performances, theater, dance, folklore and photography exhibitions, and is popular with locals and visitors alike.
The music program begins and ends with the concerts of big orchestras. This year the opening concert is reserved for the Zagreb Philharmonic and the closing one for the Croatian countertenor M. E. Cenčić. Among other national and international artists, worth a mention the renowned violinist Vadim Repin and the guitarist Pepe Romero, as well as a large number of chamber ensembles such as Il Giardino armonico, La Scala Archi Scaligeri and the Munich Philharmonic Soloists.
The Theatre Program includes plays by Croatian writer and theatre director Ivana Sajko and the Slovenian theatre director Eduard Miler, one of the most renowned directors in the area.
Ballet and dance have also been always welcome guests at the Dubrovnik Summer Festival. Great local companies but also outstanding names will perform, such as the Twentieth Century Ballet of Maurice Bejart, the American Ballet Theatre, the London Festival Ballet, the ballet of the Hungarian State Opera.
The Festival also organizes workshops for Croatian young musicians, which will be conducted this year by prominent artists such as the guitarist Pepe Romero and the violinist Pinchas Zukerman.
Tickets will be soon available on Dubrovnik Summer Festival website, visiting the dedicated section.
Photo by Tambako the Jaguar