Holidays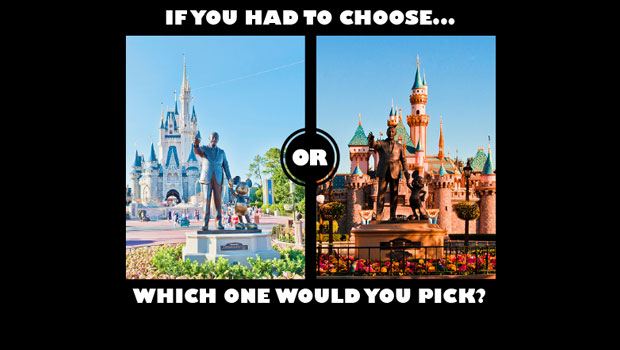 Published on March 13, 2014 | by Francy
0
Disneyland vs Walt Disney World
UK's leading travel agency Thomas Cook took to the seats to find out the good and the bad of the World's leading theme parks. Staff compared flights to Orlando and flights to Paris on passengers boarded from Australia as this was the most neutral country with regards to the exchange rate, flight distance (nearly 10 000 miles) and similar demographics.
Location and Climate of Magic
Needless to say, Florida weather will outperform the European climate in any test. With all year-round sun against the Parisian snow-capped Disney Village and snow covered rides. If you live in the USA, you might have visited Walt Disney World a ba-jillion times and want a change of scenery. If you live in Europe, and hate seeing grey all day, you might want to organise some tickets to Orlando and soak up the Florida sun. Your weather preference (Australians preferred the Florida blaze) and distance to either destination will make a huge impact on your choice and your wallet.
Rides and Attractions
Walt Disneyland is like the little cousin of Disney World. It doesn't have as many rides, waterparks or extended theme parks, but like a little cousin, it'll entertain and keep you on your toes. They do however share the most popular attractions such as Space Mountain, It's a Small World, Peter Pan's Flight and Pirates of the Caribbean. No matter which resort you visit, you will bump into your favourite Disney characters and create unforgettable memories.
Daily Costs (Tickets, Hotels, Food etc.)
According to the passengers flying back from either Paris or Florida, the daily costs averaged out. The only difference they noted was the amount of variety on offer in Disney World, against the limited economy hotel, restaurant and attraction around Disneyland. The only difference they found was in the actual travelling costs. They found that it was nearly 20% more expensive to travel to Paris from Australia than to Florida. Mon Dieu!
Size. Oh my!
If you haven't visited either resort, then don't listen to people who tell you that Disneyland is "La Crap", because despite the size (about a 10th of its 20 000 acre counterpart) it packs an awesome little punch, in any case it's just impossible to see absolutely everything at Disney World. So for your first time, Disneyland Paris is perfect as the rides they offer are some of the best in the world and the environment will be far less overwhelming and therefore more enjoyable.
Every holiday has its own pros and cons, but no matter the Disney destination, you are guaranteed the magic and wonder of the fairy-tale kingdom.