Europe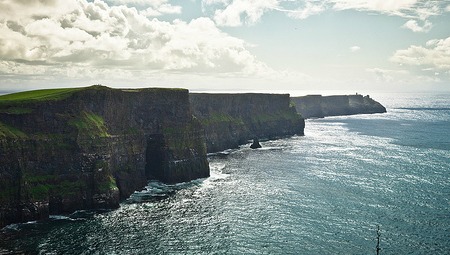 Published on February 14, 2013 | by Andrea Guerriero
0
Discovering the magic of Ireland
Ireland is renowned worldwide for being an enchanting land where legend and reality come together. This country boasts spectacular untamed landscapes, rich culture, delicious food, pubs reverberating with banjo and Celtic music, as well as great examples of indigenous architecture. Ireland is imbued with magic, at every corner: any site, any piece of countryside, any monument or castle, treasures legends and stories that make them even more special. Below are listed just a few of the Emerald Isle's highlights.

A trip to Ireland's Castles
Irish castles radiate the romantic feel of this gorgeous country. Blarney Castle, in County Cork, is one of the most visited. It's famous especially for the Blarney Stone, a block of bluestone built into the battlements of the castle that, according to legend, gives the gift of eternal eloquence to anyone who bends over to kiss it. Bunratty Castle, a large tower house in County Clare, has long been one of Ireland's top attractions. A visit to this castle, which also includes the surrounding Folk Park, will literally take you back in time, as the several restorations have always left it identical to the time of its ancient glory.
Amazing Rock of Cashel & Palace of Boyne
When it comes to places of historical interest in Ireland, visitors are spoilt for choice, as the list of picturesque sites is technically endless. Starting from the Rock of Cashel (aka St. Patrick's Rock) in County Tipperary, a remarkable 12th century fortress bearing priceless Celtic art and medieval architecture. Another terrific landmark is what is known as Brú na Bóinne (Palace of the Boyne,) a World Heritage site in County Meath, that is older than Stonehenge and Giza Pyramids. This Neolithic site is a complex of mounds, chamber tombs, standing stones, and henges, built around 3,200 B.C., and gets extra attention during the winter solstice, when a beam of sunlight pierces through a mysterious opening in the Newgrange mound and illuminates its chamber for a few minutes. Tourists may enter a free annual lottery to access the chamber (application forms are available at the Visitor Centre).
Enjoy Cliffs of Moeher & Burren
The Emerald Isle is blessed with a wide variety of gorgeous, untamed landscapes, and hiking along its evergreen hills and atop its bleak cliffs can be a truly magical experience. Get up close and personal with nature through surfing, sea kayaking, paragliding, rock climbing, mountain biking and walking, to experience Ireland from a unique perspective. Two of Ireland's most famous landscapes are the Cliffs of Moher, towering over the wild Atlantic Ocean, and the Burren a lunar-like landscape covering 250 sq km in the northwestern County Clare.
Dublin a mandatory stop
Ireland's capital is of course a mandatory stop, if not the starting point, when visiting the country. Dublin is a bustling metropolis alive with fine museums, beautiful architecture and lively pubs. Must visits in Dublin include Temple Bar, St Patrick's Cathedral, O'Connell Street and the General Post Office, and, the prominent Trinity College, founded in 1592 by Queen Elizabeth I. The College Library treasures more than an million books and manuscripts, including the famous "Book of Kells, one of Ireland's foremost relics; it is a Gospel book in Latin dating back to ca. 800 AD which contains the four Gospels of the New Testament along with various prefatory texts and tables.
Finally, don't leave Dublin without visiting the Guinness Storehouse®. Located in one of the city's most charming districts, this is the place where visitors can witness the brewing process, get hands-on experience pulling pints, and sample the king of stouts – Guinness Stout – in its home environment.
Festivals & Folklore
A visit to Ireland isn't complete without some traditional Irish festivals. So catch the Irish spirit and join the year round merriment. From St. Patrick's Day to the Cork Sailing Festival and the Galway Arts Festival, over 400 festivals are celebrated in Ireland every year, with music, food, literary, Celtic music and folklore, and lots, lots of fun!
Of course, the list is still very long, but it's now your turn to uncover the magic charm of the Emerald Isle: are you ready? Compare Ireland hotel rates, find the best deals available and treat yourself to an amazing holiday in Ireland!
Photo by daspunkt