Food & Wine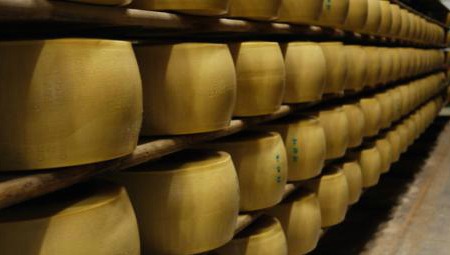 Published on February 22, 2013 | by Andrea Guerriero
0
Culinary food tour in Emilia Romagna region
No visit to Emilia Romagna region would be complete without a look behind the scenes at how at least 3 of Italy's most famous foods are made. Of course, I am talking about Prosciutto di Parma (Parma Ham), Parmigiano Reggiano (Parmesan Cheese) and Balsamic vinegar. If you like, we can add the regions' wonderful sparkling red wine, Lambrusco, to the list. The production of all four of these famous foods takes place within the confines of the Emilia-Romagna region, around the towns of Bologna, Parma and Modena.
Taking a tour which explores the origins of at least 3 of these foods, is easy and not to be missed, but trying to do it on your own would be a mistake unless you have a local guide or can speak Italian. For one of the best days out you will ever experience, I strongly advise you to employ the services of a professional tour company, who will put together a personalised tour for you, regardless of whether you are a couple or a much larger group.
What can you expect to see? Let me whet your appetite! Your tour will always start with a visit to Reggio Emilia, or one of the other villages where Parmesan cheese is made every morning, every day of the year. You will get to see all stages of the production from raw milk to the finished product. You will even be taught how to differentiate between the real thing and the cheaper imitations which some stores try to sell you as Parmesan.
After you have learnt all about cheese, you will visit one of the smaller producers of traditional Balsamic vinegar, near Modena, to see how they still make this Italian "Black Gold" using traditional methods. Balsamic vinegar is aged for at least 12 years, but in some cases is left to mature for up to 28 years before we get to taste it. As you can imagine, the longer it matures the better the flavour and aroma.
Finally, (you will notice that we keep the best for last!) you will visit the town of Langhirano, south of Parma, which is the only region which produces genuine Parma Ham. Once again you will be able to see how the ham is made and learn why it is so special. You will get to taste the product, and then indulge in a wonderful lunch featuring Parma Ham and cured meats as your starter (Antipasto – meaning "before the Pasta,") followed by a Tortelli alla Parmigiana, which are fresh regional pasta parcels filled with ricotta and herbs – this is a signature dish of Parma – followed by dessert and coffee.
Finally, you will leave for the drive back to Bologna after a day of gastronomic delights!
Practical Tips: this is an amazing day out and you do not want to miss one moment of it, so it is highly recommended that you travel to Bologna the day before and spend a night in the centre, so that you can be ready for your 7am pick-up. (The cheese production process only happens once a day in the morning, so we need to pick you up around 7am). You could get a train in the morning to reach Bologna at around 11.30 – have a great lunch in the city (known as the Gourmet Capital of Italy) and then spend the afternoon sight-seeing or shopping and be rested and relaxed for your tour the next day.
Plan ahead to make the most of your time in this beautiful part of Italy; for the best Culinary tour from Bologna, try Emilia Delizia, a professional tour company based in Bologna and Parma, who organise personalised gourmet food tours, principally in the Emilia Romagna region. They can provide itineraries and guides in several languages and you know you are getting the very best insider information from local people who know and love the area. Visit them on: www.emiliadelizia.com where you can see their great reviews.
For an interesting video about how Parmesan cheese is made watch this video on youtube