Sport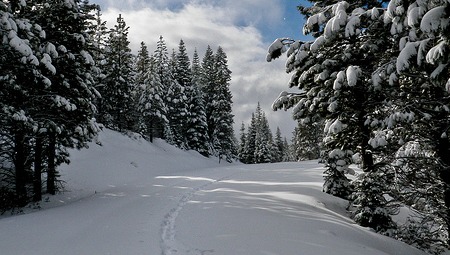 Published on February 19, 2013 | by Daniela
0
XC Skiing, not just skiing
Cross-country skiing is one of the most popular of all winter sports. The main difference with downhill skiing is that you use longer, thinner and lighter skis to dash and wind between snow-dusted pines and silent forests on the hundreds of ski trails scattered around snowy-Europe cross-country skiing resorts!
Cross-country skiing dates back thousands of years, to when humans first realised that, by attaching shaped pieces of wood to their feet, they could travel a lot faster across snow-covered fields and through woodlands when hunting! Nowadays, the friendliness of fellow skiers, the feeling of being close to nature, and the chance to keep fit and enjoy nature at the same time, make cross-country skiing holidays very rewarding.
The majority of cross-country skiing takes places on relatively flat terrain – valley bottoms, or high mountain plateaux – over signed trails called "Loipe" which are usually 'pisted,' meaning that piste-bashers flatten the snow to create grooves for your skis to follow. As usual, trails are graded from blue to black – easy to difficult – so that anyone, beginners rather than experts, can have fun with this truly exciting sport.
Many alpine regions that offer cross-country skiing, provide even shuttle buses up to the ski trails or the Gondola / Chair-lifts (when you don't ski just outside your hotel door!) as well as cross-country courses and dozens of shops where you can buy all you need for your winter holiday. And plenty of huts and restaurants to enjoy local cuisine, of course.
The pleasure of cross-country skiing mainly comes from choosing your destination carefully. Here is a shortlist of the best places in Europe where to enjoy pleasant and fun XC Skiing holidays.
The 14 villages that constitute the Kronplatz holiday-area, South Tyrol, offer an attractive program also for cross country skiers, proud of the biggest cross-country ski trail system in Europe, with about 200 km of cross-country ski runs. Enjoy XC in the Dolomites, white nature and fresh air, and don't forget to taste the yummy dumplings.
Val di Fassa, Italy. The thrilling skiing of the Dolomites and an unmistakable Italian atmosphere: that's what you'll find here! Enjoy your ski holidays along the trails of the main villages of the valley, including Canazei, Campitello and Pozza.
Chamonix Mont Blanc, located at the heart of the French Alps, is one of the best places in France for a week of cross-country skiing, due to the excellent snow conditions and the beauty of its surroundings. There are gentle pistes linking Chamonix with the village of Les Bois or, further up the valley, the quietude of Argentière with skiing through pine forests.
Großer Arber, Germany (Bavaria). The Arber region is one of the most reliable for snow in Germany and also the best equipped, with snow cannons and efficient piste preparation equipment. 90 km of cross-country skiing trails await you at the cross-country skiing centers Bretterschachten and Scheibe.
Mosstrond, on the edge of the massive Hardangervidda National Park, in a beautifully remote part of Norway, is a little less known destination, but still a perfect place to indulge your passion for cross-country skiing. Centres in Kvitavatn, Rondablikk and Mosstrond itself, are chosen for their remote, high-mountain feel. The quiet exhilaration of gliding along pristine tree-lined tracks becomes truly addictive here.
Whether you are a complete beginner or an advanced skier looking for thrilling trails, build up your strength, your stamina and balancing skills, check snow conditions and… go! It's time for XC!
Photo by ex_magician