Europe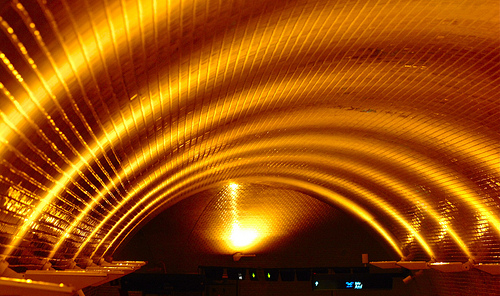 Published on June 10, 2011 | by Andrea Guerriero
2
What makes all fall in love with Lisbon?
Lisbon is a city that will surprise you, for the tranquility and hospitality of its citizens, but also for its charming atmosphere and its contrasts.
Visiting Lisbon is easy and pleasant. We would like to suggest a route to explore this metropolis, with 800 years of cultural influences which blend with modern lifestyles, creating really special and fascinating contrasts and contradictions. There are places that you should not miss to stop at, if you wish to fully understand the unique charm of Lisbon and these are its five main districts.
Bairro Alto – the district of young people that want to have fun, with an amazing and visible dual personality that still characterizes it nowadays. Along Bairro Alto you can just wander aimlessly, in a warren of alleys where palaces are interspersed with working-class houses, where you will enjoy pleasant bars, restaurants and nightclubs.
Baxia – the heart of Lisbon, the old part of the city which starts from the banks of the Tagus and reaches the main road, Avenida da Liberada, with Praça do Rossio, Praça do Commercio and the Elevador de Santa Justa.
Belem – right on the banks of the Tagus, boasts roads lined with palm trees and vast parks. Here are the Monument to the Discoveries and the famous Tower of Belem, a true symbol of the city, built by King Manuel I.
Chiado – right in front of the Baixa. Favorite neighborhood by Pessoa, melancholy poet and Portuguese writer, Chiado hosts a bronze statue of the poet sitting at the table of a cafe, which reminds visitors that here he spent his days reading and writing. This has always been the cultural district of Lisbon, now a place of elegant shops, department stores, libraries and theaters. Do not miss the imposing ruins of the Gothic Igreja do Carmo, evocative reminders of the devastation left by the 1755 earthquake.
And how not to mention the strong scent of life that you breathe in the Alfama district. You'll love the atmosphere of this chaotic and elusive place, with washings hanging from balconies, disorderly parked cars in the streets… whatever you see in the Alfama represents an intense and meaningful expression of Lisbon's character.
These are the neighborhoods where you can discover the true cultural identity of Lisbon. Those in which entering the alleys you can find shops and boutiques of any kind or dine in a typical tasca, family-run taversas – often very cheap – where food is great and where you can taste local dishes such as bacalhau (cod fish) cooked in many different portuguese ways, El Cocido a la Portuguesa or the sarrabulho, all washed down with a good Porto wine and sublimated by Pasteles de Belem, a typical sweet of the city.
Obrigado is the watchword in Lisbon, a sign of the innate kindness of its people. Do not just call it a city, Lisbon is much more: a microcosm of emotions and surprises. Raise your hand if you still haven't been there, but use the other one to start packing your suitcase!
Photo by pedrosimoes7