United Kingdom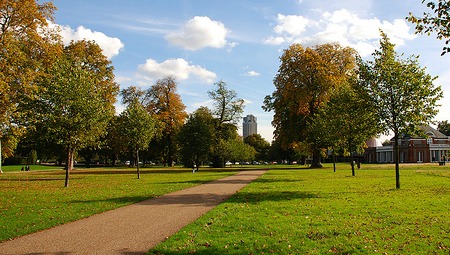 Published on March 21, 2012 | by Daniela
0
Charming London: a walk through Hyde Park
Hyde Park is one of the greatest city parks in the world. This is the largest of the royal parks in London, connected with the neighboring Kensington Gardens, Green Park and St. James's Park, thus forming one large green lung right in the centre of the city. Whenever you visit London throughout the year, chances are that you bump into some kind of exciting event or celebration, but Hyde Park is also the ultimate place for relaxing and having a nice time.
In the 16th century, it was used primarily for hunting, and by 1637 King Charles I opened the park to the public. Covering 142 hectares and hosting over 4,00 trees, a large lake, a meadow and ornamental flower gardens, Hyde park is also a popular place for jogging, swimming, picnicking and even horse riding.
Open daily from 05.00 am to midnight, Hyde Park treasures a number of fascinating buildings and monuments: amid bridges, fountains – such as the Joy of Life fountain, and statues – including the monumental Archiles statue, this recreational area in London has something for everyone.
One of the spots that make this park so famous, is its Speaker's Corner.
This… "Corner" was established to create a venue where people would be allowed to speak freely, after police had tried to disband a political meeting way back in 1872. In some way, this free speech is still reiterated nowadays, so if you're out in London on Sundays, head to Speaker's Corner to hear the city's most vocal orators share their opinions with the world. Indeed, every Sunday people stand here on a soap box and proclaim their views on political, religious or other issues.
Another interesting spot in Hyde Park is the so called Serpentine. This is a large artificial lake extending into the neighboring Kensington Gardens, and is especially popular for boating and swimming. Nearby the Serpentine is a memorial fountain in honor of princess Diana, inaugurated in 2004 by Her Majesty Queen Elisabeth II.
At the north-east corner of Hyde Park, stands the Marble Arch. It was originally built in 1827 as a gateway to Buckingham Palace, and moved to its present location in 1851. Another arch, the Wellington Arch, can be found at the south-east corner of the park, connecting Hyde Park with Green Park. The arch was built in 1826 by Decimus Burton. Inside the arch, there are exhibitions and galleries open to visitors.
Hyde Park is one of London's finest landscapes and features also many recreational activities. Ice skating, for example, is available from November to January; within the park you can find two lovely lakeside restaurants, serving everything from a complete meals to coffee and quick snacks; finally, the many open air events taking place throughout the year, make it a place where there's always something to see and do.
Among the many happenings, worth a mention the upcoming "Spring to life!" – on March 21st, to celebrate the arrival of Spring; "Headspace Live Event," on April 14th (and other dated,) which brings together the wonderful benefits of meditation and nature; the iconic "MoonWalk," on May 12th, a charity event where thousands of women (and a few brave men) will set off a marathon journey through the streets of London wearing brightly decorated bras. To raise awareness, and money, in the fight against breast cancer.
During the London 2012 Olympic Games, Hyde Park will host the triathlon and marathon swimming matches. And besides sports, it will also host music, theatre, and other cultural events, including the Olympic Games Opening (July 27) and Closing (August 12) Ceremony concerts, and much-awaited tour dates by artists of the likes of Bruce Springsteen (July 14) and Madonna (July 17.)
Foto di Uli Harder