News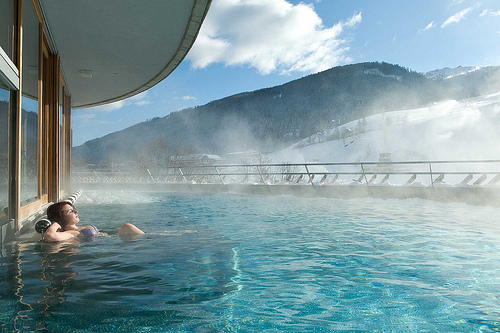 Published on January 12, 2012 | by Daniela
0
Bormio – Ski and Spa: from January 7th Ski and Spa in a single Pass
Excellent spas and world-class skiing: welcome to Bormio! One of Italy's top ski resorts, Bormio has come to world attention in 1985, when it hosted the Alpine Ski World Championships, so becoming an excellent ski area with a huge vertical, great ski runs and excellent facilities. But Bormio is also renowned as a thermal spa town since Roman times (Leonardo da Vinci recorded a visit here in 1493,) and nowadays hosts modern thermal baths as well as a wide variety of bars, restaurants, night clubs and a cinema.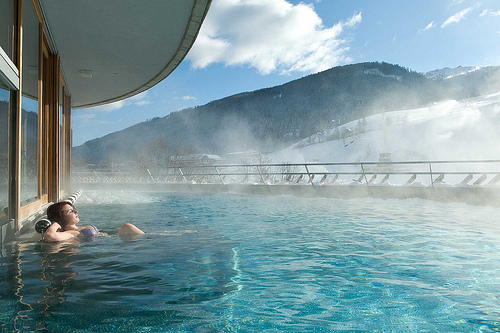 Well, after an active day on the slopes, there's nothing better than a good swim in thermal waters and a massage or beauty treatment.
Bormio Pass is the novelty of the Alta Valtellina Ski Area winter season. An innovative product promoted by APT Bormio Turismo: a single Pass which allows tourists to enjoy the most important tourist services in Bormio, that is, skiing, spas and thermal baths, valid for eight consecutive days.
Under the slogan "Enjoy your holiday", starting from January 7th, 2012, tourists, hotel guests and visitors will be able to purchase this new combined pass Bormio – Ski and Spa, either to use the services of the Bormio Ski Area, and access to spa services and the prestigious Terme di Bormio Bagni di Bormio. This means total freedom to choose the number of services you intend to use in 8 days, choosing when and how to use them. The access to Bormio Terme, for children under 16, is allowed only with an adult and includes a 3-hours sports and wellness session excluding the Thermarium.
The Pass Card Bormio – Ski and Spa will be on sale until March 24th, 2012 at enabled hotels, Bormio Terme, Bagni di Bormio, Bormio ski slopes of the ticket and APT Bormio. You can choose from 4 different tickets, including 4,5,6 or 8 services among those available. Prices range from 128.00 € (including 4 services), to 208.00 € (Diamond pass, including all 8 of the services available.)
For more information, you can contact the offices of Bormio Tourism or visit the official website.
Photo by badkleinkirchheim