Business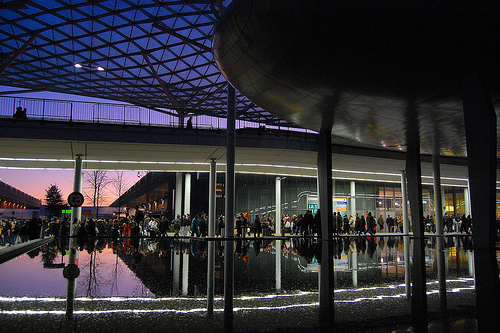 Published on February 14, 2012 | by Daniela
1
Bit Milan 2012: International Tourism Fair
Tourism is a major source of income and employment for Italy, and Trade Fairs and exhibitions are an important way of keeping up to date with what's going on around the world. BIT, Milan International Tourism Exchange, is one of the biggest events in the tourism sector. The 2012 edition will start on February 16 and will finish on February 19, 2012, in Milan, of course.
From an international point of view, such an event held right in Milan, the financial capital of Italy, gives thousand of operators in the industry, the opportunity to approach the latest products and services on the global market and get familiar with fresh ideas which could become a new potential economic growth engine – for Italy, and the rest of the world: because traveling is still something that makes people happy and live longer, a true lifestyle strategy.
BIT 2012, the International Tourism Fair, will be held at Fiera Milano, Milan, Italy, from February 16 to 19, 2012. This exhibition will showcase the whole diversity of traveling. A range of products and services related to the tourism will be presented and buyers, importers and general people will have the opportunity to worm out secrets and make contacts on an international platform.
BIT is one of the leading tourism fairs in Italy, and the number of visitors attending the exhibition is constantly growing every year. BIT 2012 will include more than 5,000 companies from 130 countries.
BIT will have a packed programme of opportunities for operators. In particular, on February 17 and 18, at BIT BuyItaly, the 'product Italy' will be marketed: sellers and top international buyers, will meet to discover together the new opportunities of incoming Italian tourism. The BIT BuyClub workshop, instead, will dedicate a whole day, February 16, to European group travel operators, who will guide their members towards the best choices. Travel agents can attend several training sessions, thanks to a calendar of conferences dealing with the most topical issues concerning the world of tourism, including interesting presentations on what's new for destinations in 2012.
Dozens of industries will be represented and showcased at BIT 2012: Congresses&Conventions; Culture&ntertainment, Education, Accommodation Facilities, Media&Press, Rentals, Sports&Leisure, Wellness&Spa; Food and Wine and so on.
This year, trade operators have three entire days at their disposal to generate new contacts, from Feb 16 to 18, while the general public can visit the stalls only on Saturday 18 and Sunday 19. For any further information or accreditation, visit the official BIT website.
Photo by Goldmund100