Top 10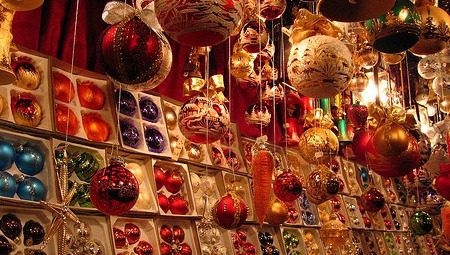 Published on October 29, 2013 | by Andrea Guerriero
0
The best Christmas markets in Europe
Watch, taste and feel a traditional Christmas, visit Europe's best Christmas markets. The living, the breathing yesteryear of a bustling outdoor marketplace. With our superb choice of Christmas markets in Europe, you are sure to find your perfect festive holiday destination.
Originating in Germany and Austria, some of the most famous Christmas markets in Europe have been running since the Middle Ages, and today they can draw upwards of two million visitors during December. They usually focus on local arts and crafts and hand-made Christmas decorations, with local artisans selling their works and specialty foods.
Christmas markets in Cologne & Berlin
Germany is definitely the King of records: many Christmas markets are set up around the country over the festive period, each standing out for being the oldest (Dresden, since 1434!) the largest, the most traditional, the most famous (Nuremberg, especially for handmade wood figurines) and so on.
Cologne makes the winter scene magical with its timber framed stalls selling food and Christmas decorations. The most spectacular and popular of these is the market 'Am Dom', set on the square in front of the towering twin spires of the Cathedral.
There are actually several markets that take place around the German capital, Berlin, but the most popular – 4 million visitors last year – is the one that takes place around the Kaiser Wilhelm Gedächtniskirche. Let alone Charlottenburg palace, which is transformed with over 150 stalls selling sausages, wooden decorations, mulled wine and more. Nov 25 – Dec 26.
However, over the last few years, other European Christmas markets have become as well known as some of the more traditional German Christmas markets.
Christmas markets in Vienna
Vienna gets into the spirit with several markets and actual "Christmas villages" glimmering across the city. At the traditional Old Viennese Christmas Market on Freyung, held since 1772, you can buy cribs, glass ornaments, ceramics. While at the cultural and Christmas market in the Ehrenhof, in front of Schönbrunn Palace, the cheerfulness continues beyond Christmas with a New Year's market. Nov 16 – Dec 24.
Christmas markets in Gothenburg & Stockholm
Gothenburg, known as 'Scandinavia's Christmas city' really glows when it's Christmas time. Its market opens from Nov 16 to Dec 23. And Stockholm hosts several Christmas markets too. The oldest one (1903) is setup on Skansen – the open-air island museum, and there's another one in the picturesque Gamla Stan – Stockholm's old town. Don't miss out on the specialties based on reindeer meat! The Christmas markets start here on November 23 and are held on the four Sundays before Christmas Day.
Christmas markets in Prague
Moreover, Prague welcomes Christmas with lights and music, with carol singers, folk displays, concerts and theatres, and lots of drinking, with hot wine and Czech beer. The main Vánoční trhy, I don't know how, but that's the way they call Christmas markets, are held in Wenceslas Square and Old Town Square – where a giant Christmas tree is also set up. The markets run from November 30 to December 23.
Christmas markets in London
And, among a wealth of events and attractions, London gets into the merry spirit with dozens of Christmas markets set up around the city; you'll find glühwein and Christmas specialties, along with foodie gifts, hand-crafted presents and Christmas ornaments for your homes. Must visits are Hyde Park, Nov 22-Jan 5, and the traditional German-style Southbank Centre Christmas Market, Nov 16-Dec 24.
French Christmas is bright lights, tempting tarts and traditional wooden chalets. Children can have their pictures taken with Santa, but beware his French traditional partner, le Père Fouettard – the whipping father – whose job it is to decide whether they have been good or bad!
And if you can't decide which to choose, then take them all in on a Christmas cruise along the Danube. 7 nights between Nuremberg and Budapest, including trips to Salzburg and the medieval city of Regensburg in Germany. Did you know St Nicholas is the patron saint of sailors?
Photo by charley1965