Germany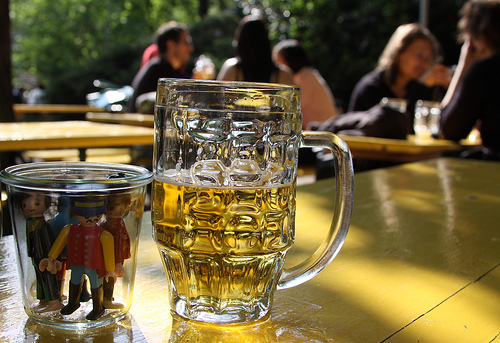 Published on August 22, 2013 | by Francy
0
Berlin's best beer gardens
The best way to spend your summer afternoons and get pleasure from your holiday evenings in Berlin is visiting one of the many Biergarten, enjoying a pint or more in the open-air, rather than choosing a Kneipe, the counterpart indoors beer gardens.
The traditional Weißbier – Berlin's purest version of wheat beer – is a must to be drunk from the Weizenbecker, the one-half liter rated capacity glass. A Berliner Weisse is often prickled with raspberry, woodruff herb, or lemon syrup. Other traditional drinks include Pilsner (lager beer), Schwarzbier (black beer) or Alster – a mixture of Pilsner and usually Sprite, citrus-flavored soda, ginger ale, or cider – also known as a Radler.
Following grey, snowy winters, Berlin's beer gardens resume again around March. When the weather is nice, beer gardens are bursting with flowers, but the most important feature of a Biergarten is a space to relax with tables and benches, completed by the presence of trees for leafy cover, or umbrellas as an alternative substitute. Here are some of the best beer garden options in Berlin.
Located in the Mitte district – political, commercial and cultural centre of Berlin, but also the clubbing hub of the city par excellence – you will find the amazing Cafè Zapata, inside the Tacheles complex, a dilapidated building occupied by artist squatters. This Biergarten is a wonderful typical spot of Berlin's alternative scene. Decorated with metal and barbed wire, tins and trash art, here you can go traditional with the best German beer, to be enjoyed in a fairly surreal environment.
In the leafy embrace of Kreuzberg's Viktoriapark, Golgatha is both a pub and dance club which welcomes afterwork crowds and tourists after long busy days around the city. This place offers beer along with steaks and sausages, served on a self-service basis. It offers playgrounds for children and free wireless internet; after midnight, this bar turns into a vibrant nightclub.
The oldest biergarten in Germany is Pratergarten. Located in the trendy Prenzlauer Berg district, Pratergarten serves beer under the shade of chestnut trees since 1837. This historic venue is a government- protected building where visitors can enjoy lunches outside with a cold beer, then spend an afternoon shopping at the nearby clothing and music stores. They only accept payment in cash.
Another historic beer garden in Berlin is Fischerhütte am Schlachtensee, on the banks of Schlacten Lake. Legend tells that this biergarten has been a favored place by Frederick the Great. Here you will rarely find lots of crowding, so it is perfect for those who want to drink in peace and quiet.
Finally, one of the most interesting beer gardens in Berlin is Burg am See, which is actually half biergarten, half Turkish shisha cafe. Here you can enjoy a German beer smoking a pipe in the Oriental style with legal herbs and tobacco. All this, sitting on a bench or chair outside immersed in a wonderful natural, truly dramatic atmosphere.
Photo by hsingy