Germany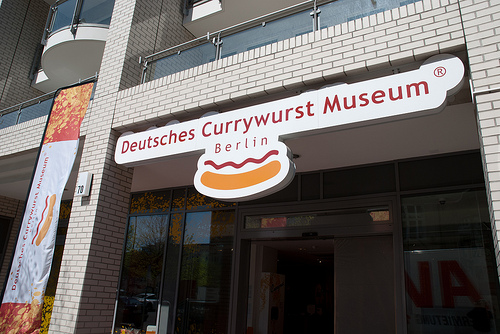 Published on March 23, 2012 | by Germanico
0
Berlin, the museum of curried sausages: Deutsches Currywurst Museum
Currywurst is Berlin's typical street food or take away dish. Wonderful in its simplicity, and delicious to the palate, this is a hot, crispy pork sausage, cut into chunks, and served with a spicy curried ketchup. This typical Berlin dish, dedicated to all those who are hungry and on the run, boasts a long history.
Some say it was 'invented' in 1930 by mistake (a sausage accidentally dropped into curry) and then, by 1950, Frau Herta Heuwer standardized the dish by including it in the menu of her restaurant. Anyhow, at present, according to official figures, 800 million Currywurst meals are sold every year. This is also why Deutsches Currywurst Museum has been opened in Berlin's Schützenstrasse, a museum dedicated to the curried sausage.
Before introducing you to the Currywurst Museum, we would like to highlight the best places where you can sample Berlin's local specialty:
– Curry Baude, on Badstrasse
– Curry36, on Mehringdamm
– Konnopke Currywurst, on Schönhauser Allee
So the Deutsches Currywurst Museum Berlin, which is located on Schützenstrasse, is a museum dedicated to Currywurst, which is actually a true icon for Berliners, just as the Brandenburg Gate, it's a tradition, an emblem.
The museum is designed in a really amusing way. It traces the history of Currywurst, one of Germany's traditional dishes, with stories and anecdotes, interesting facts about famous people and their food preferences.
This is an interactive exhibit, where you will be led on a guided tour by the museum's mascot QWoo, for the enjoyment of children. And when we say "interactive" that's exactly what we mean, as the museum offers the opportunity to learn even about Currywurst's scent and flavor. The entrance fee (11 Euros) includes a Currywurst tasting and with a small surcharge (13 Euros) you can taste three different types of Currywurst.
The museum also shown the different ways in which Currywurst is sold, from street stalls and kiosks (Imbisstand) to the super-efficient counters of clubs and bars. There's a section entirely devoted to the spices usually matched to the dish, with the possibility to taste them, but also to learn the stories related to their countries of origin.
Of course, you will also learn about the relationship between Ecology & Fast Food related to this dish, in terms of eating habits, biodegradable disposable tableware, and more.
Finally, a section of the Deutsches Currywurst Museum is dedicated to film and television productions where the legendary Berlin dish has… starred.
Someone has even wrote a novel on Currywurst! If you read it or if you're going to read it, please drop me a line with a review.
Photo by quinet