Germany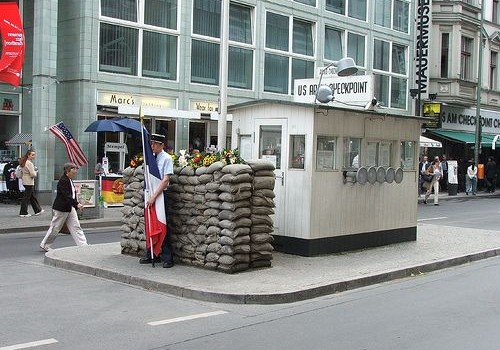 Published on April 13, 2010 | by Francy
1
Berlin: Kreuzberg and Charlottenburg districts
After Schöneberg and Friedrichshain districts now we are going to Kreuzberg and Charlottenburg.
Kreuzberg district in West Berlin and south-east from the centre, it is one of the districts of artists (one of many of the city). Frequented by the punk community, it is one of the areas where the Wall once stood: the liveliest area is called Kreuzberg 36. The most popular streets for evening and night life are the Oranienstraße, the Wiener Straße and the Schlesische Tor.
In this area there is the Checkpoint Charlie, famous and sad point of border between East and West at the time of the Wall; the Jewish Museum, a museum dedicated to the history of the Jews; the Deutsches Museum of Technology; the Viktoriapark and Görlitzer parks and the beautiful bridge over the Spree River (the Oberbaumbrücke). In the Kreuzberg district it is also possible to visit the open-air museum of the Topographie das Terrors (Topography of Terror), which documents the system of terror during the Nazis (in Niederkirchnerstraße).
The district of Charlottenburg, in the Western area of the city, has its commercial heart in the larges boulevard of Kurfürstendamm and Tauentzienstraße, with historic buildings and department stores.
In Charlottenburg, which was one of the major centre of student protests in 1968, there is also the Zoo station, famous in the 80s as a centre of drug dealing and heavy drug use, enough to inspire the book "We, the boys at the zoo in Berlin" by Christiane F.
Today, Charlottenburg is one of the fashion district where to have fun in the evenings. To cite a couple of pubs… the A-Trane, in Bleibtreustrasse 1, where they makes jazz/blues music, and the Brauhaus Lemk old brewery, in Luisenplatz 1.  To visit, there are the Schloss Charlottenburg, the city's oldest historical building; the Deutsche Oper Berlin; the beautiful Breitscheidtplatz, that is a shopping area with the Kaiser-Wilhelm Memorial Church, a church dedicated to Emperor William, badly damaged by bombing in World War II and never rebuilt, leaving as a warning to future generations. In Charlottenburg there is also the Theater des Westens dedicated to 'light' shows as light opera and vaudeville.
If you're going to get to Berlin take a look at all the available hotel deals in Berlin
Photo of the Check Point Charlie by jacobsladder