Festival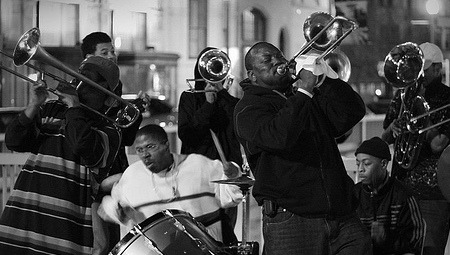 Published on October 25, 2012 | by Daniela
0
Berlin Jazzfest – Get a wiggle on, it's coming!
Once again in November this year, for the 40th time, Jazz lovers of all ages will flock to Berlin to attend Berlin Jazzfest, one of Europe's greatest Jazz Festivals ever. 2012 JazzFest Berlin will last for 4 days from November 1st to 4th.
Berlin is currently considered one of the most important tourist destinations of Europe. In the last 20 years, the Capital of Germany has undergone intense transformations, which have made it become a center of innovation in all fields of knowledge, a stage of expression a place of high level culture and business. And according to this will, Jazz is a Spirit is the motto of the new artistic director of this year's Berlin Jazz Festival, Bert Noglik, with a clear focus on extraordinary musicianship and approaches rather than on a mere collection of big names.
The festival's artistic concept has always been to document, support, and validate trends in jazz, and to mirror the diversity of creative musical activity. Indeed, JazzFest Berlin presents world renowned jazz artists and newcomers from across the globe, including both traditional jazz performances and more modern and progressive acts. This year, Jazzfest Berlin will run from November 1st to 4th. It's going to be, as every year, a marathon of jazz, fun, and… Berlin-life of course!
JazzFest Berlin, originally called the "Berliner Jazztage" (Berlin Jazz Days), was founded in 1964 in West Berlin by the Berliner Festspiele. This is one of the world's premier jazz festivals and takes place at several historic venues throughout the city, including, among others: Berliner Philharmonie, Haus der Kulturen der Welt, Volksbühne, Haus der Berliner Festspiele (the main venue) and the Jazzclubs Quasimodo and A-Trane. That's why attending the festival gives visitors also the opportunity to enjoy a cheerful tour of the city!
Four days devoted to jazz music, which will include a tribute to the East German composer Hanns Eisler with music by Das Kapital and visuals by Manic Cinema, as well as performances by Geri Allen (Haus der Berliner Festspiele, Thu 01-11-2012, 20:00, and a "Tribute to Mary Lou Williams" at Akademie der Künste, on Sun 04-11-2012, 15:00,) Archie Shepp (Haus der Berliner Festspiele, Sat 03-11-2012, 20:00,) Wayne Shorter (same place Sun 04-11-2012, 20:00,) Louis Sclavis, and many others. Moreover, a number of experimental and also world music groups will perform at the event, from Klezmer quintets to acid jazz.
Along with music, JazzFest Berlin will also focus on the conjunction of jazz with other arts: Jazz and tap dance, jazz and film, and jazz and poetry. Nils Wogram and Geri Allen are being featured in musician's portraits. The tradition of rather free improvised music is being represented by duos like Schweizer-Favre, Crispell-Lytton or Takase-Bennink.
A great opportunity to enjoy the city and its beauties, a long weekend of fun for the fans of a music style that is not exactly German perhaps, but which is so warm and involving that it can find a home even in the "cold" Berlin, to become one of the leading jazz events in Europe! More info at berlinerfestspiele.de
Photo by Nestor's Blurrylife