Germany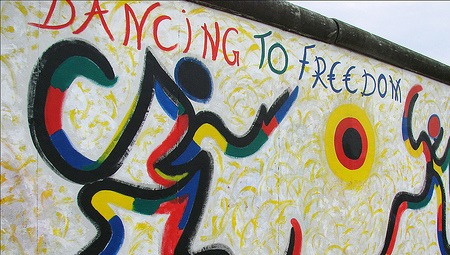 Published on March 22, 2012 | by Daniela
0
Berlin East Side Gallery: from death to life, and vice-versa
After the Wall came down in Berlin, in 1989, more or less famous (at the time) artists, gathered and transformed the eastside of the Wall in the largest open air gallery in the world. The East Side Gallery is a special place, where art has become the expression for a new face in a new time: the time of Freedom.
Between Oberbaumbrücke and the Ostbahnhof (east train station), along the former borderline that ended at the Spree – where the famous Museum Island stands – and Mühlenstrasse, the East Side Gallery is a 1.3km-long section of The Wall, near the centre of Berlin, acclaimed as one of the best public art in the world.
Approximately 106 paintings by artists from all over the world cover this memorial for freedom. These paintings document one of the greatest times of change in Europe's history, and express the excitement and great hopes for a different future, better than that before the Wall came down.
Yet by 1999, the images that used to go around the world started flaking off, they've been over painted with graffiti and overwritten with signatures by tourists (awful,) and have been suffering decay caused by defacement, weather and air pollution, without being touched once for restoration. Sad enough.
The problem is that, even though the East Side Gallery is one of Berlin's greatest landmarks, it still testifies a painful chapter of our past. So according to the saying 'if you don't see it, you don't think of it', the attraction seems to get more and more forgotten, and perhaps many quietly hope it might disappear one day…
When a public discussion started about removing it, the Wall-artists founded the Künstlerinitiative East Side Gallery e.V., a registered society that fights for the East Side Gallery and its conservation. It has been, and still is, a successful fight.
A restoration project launched in 2000, funded only through donations and private sponsors, managed to bring back about one-third of the East Side Gallery. Moreover, a well-funded 2009 restoration renovated much of the Gallery – just in time for the 20th anniversary of the "Fall of the Wall."
The East Side Gallery is still at its original place. Günther Schaefer's "Vaterland" (Fatherland,) Narendra K. Jain's "Seven Steps to Enlightenment," or the outrageous "Brother Kiss" between Erich Honecker and Leonid Brezhnev depicted by Dmitri Vrubel, are still there. And they still make up one of Berlin's best tourist attractions. Everlasting, at least in our hearts, 'cause we should always forgive… but never forget.
Foto di dalbera