Summer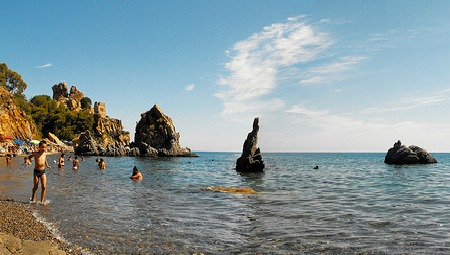 Published on May 8, 2012 | by Daniela
1
Beach Holidays in Sicily: Giardini Naxos
Giardini Naxos is a town in the Province of Messina, on the East coast of the wonderful Sicily, Italy. It lies between Cape Taormina and Cape Schisò, as a long, sensational crescent-shaped pebble-and-sand beach. Known as the first Greek settlement in Sicily, dating back to 734BC, today this place stands out as one of the most sought after and sophisticated seaside-resorts in Italy.
As the same name, and the presence of numerous archaeological sites suggest, Naxos was founded by the Greeks and has always been a quiet fishing village, even though it has been fortified, over the centuries, with steady watchtowers used to protect the island from corsairs and barbarians.
Nowadays, Giardini Naxos is a popular tourist destination, famous for its beaches, panoramic views over the bay and surrounding hills, and its small, but bustling fishing port. The lovely seafront, Via Tysandros, is lined with hotels, souvenir shops pubs, restaurants and pizzerias.
Sunny days on the beach are what make holidays in Giardini Naxos special. Giardini Naxos has two beaches, one is the Recanati Beach – which is getting smaller and smaller every year and where most of the hotels are found – and the other is called Lungomare (waterfront) – located on the main beach road, near the centre, much bigger and a lot cleaner.
Recanati beach has a couple of small equipped "lidos" but the most part of the beach is free. The beach in the centre is the more touristy and enjoys wonderful views over Taormina and Mount Etna. Well suited for families, the lidos have toilets, showers, restaurants and ice-cream kiosks, where you can also try a "Granita" a frozen mixture of water, sugar, and a flavoring such as lemon, strawberry, coffee, pistachio, almond, etc. served in a glass, usually with a warm "Brioscia".
Although Sicily is often notorious to be quite… wild, especially in terms of services and facilities for tourists (after all this is somehow what people expect when visiting the Island) Giardini Naxos is very well equipped to welcome guests and provide visitors with all they need for a perfect holiday.
Lifeguards are always available and posted at regular intervals along the beaches. Besides swimming in the warm crystalline waters of the Ionian Sea, you can enjoy many other activities, such as boating and canoeing. Besides the beaches, the town itself also has many churches and an archaeological park.
There is plenty to see and do in Giardini Naxos. Shops, lantern-lit trattorias, and bars abound, and in the evening people love to have fun in simple ways with Karaoke bars, live bands, theatrical productions, and impromptu dancing on the beaches at night. Night owls, on the other hand, love bar hopping along the buzzy waterfront.
For a wonderful day outdoors, the beautiful Taormina is situated in the hills above Giardini Naxos and can be easily accessed by car and bus.
Giardini Naxos attracts Italian and foreign visitors throughout the year, but mainly in the summer months, this town is crowded with tourists. This town may lack Taormina's medieval charm, but it's filled with good hotels, fine swimming, and excellent restaurants.
July and August are the peak summer season here in Giardini Naxos, and when I say peak, that's a very high peak! The public beaches and lidos are definitely crowded in these months, and especially in the day of Ferragosto (August 15) when people celebrate what is known as the hottest day of the year in Italy by camping on the beach in tents and running into the sea at midnight for a swim under a sky enlightened by a wonderful display of fireworks.
Therefore, whether you're planning to visit Giardini Naxos, May or June could be perfect too! Prices are lower, you can avoid crowds and enjoy warm days at the beach in a more relaxed, but equally gratifying atmosphere.
Photo by Miguel Virkkunen Carvalho