Italy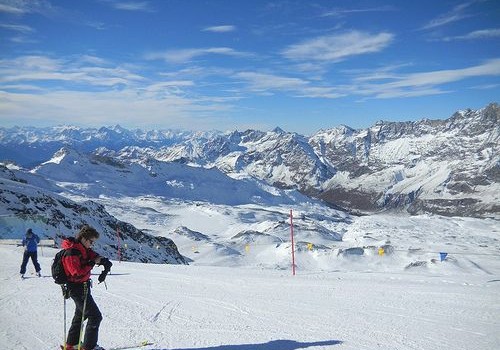 Published on December 2, 2010 | by Francy
0
Aosta Valley: the skiing valley
At the foot of the Matterhorn and Mont Blanc, a whole region provides in winter all its beauty for winter sports' enthusiasts. The Aosta Valley, border region between Italy and France, makes available to tourists, sportsmen and vacationers a wide range of entertainment possibilities.
Some of the ski resorts of the Aosta Valley are among the most popular in the Alps: accommodation in the valley are able to combine the efficiency of innovation with the beauty of the alpine tradition.
In Aosta Valley, hotels with the latest technologies and next-generation wellness centers coexist with chalets, cottages and family-run mountain dews. And speaking of families, the Valle d'Aosta, as well as Trentino, is more and more at the forefront of hospitality for families with children and adolescents: the offer of services and gaming facilities available for this clientele is very wide.
As we said, some of the most famous skiing resorts in the Alps are here in Aosta Valley.
Cervinia, in Valtournenche, is a fashionable ski resort surrounded by some of the most beautiful mountain peaks of the Alps: Plateau Rosa, Matterhorn Klein and Matterhorn. In Cervinia you will not enjoy only ski, as it offers also social life, shopping and the possibility to see celebrities and entertainers. Cervinia offers lovers of skiing 58 downhill slopes for a total of 150 km – of which at least thirty can also be used for summer skiing – and more than 3 kilometers of cross country ski trails. The ski resort of Cervinia is connected directly to that of Zermatt: in this way, skiers can enjoy over 400 miles of available trails and facilities.
Courmayeur, pearl of the Aosta Valley, is a famous tourist and ski area at the foot of Mont Blanc. This is a very fashionable and exclusive resort, with shops and excellent restaurants. The ski resort of Courmayeur offers over 100 kilometers of trails for downhill skiing and thirty for cross-country. All the area is appreciated by those who love off-piste skiing, with trails in the mountains of the Vallee Blanche or Toula glacier. In town you will appreciate the Courmayeur Sports Center, an area of over 25 thousand square meters where to practice skating, curling, tennis, squash, soccer, indoor golf, gym, spinning, etc..
Pila is in the municipality of Gressan, at almost 1800 meters of altitude. Pila is the kind of place where you experience an "overall ski": in essence, hotels and residences are connected directly to the ski lifts without having to use public transportation or cars. Pila is one of the most popular ski resorts of Valle d'Aosta, for this reason it focuses on efficiency and technology for the management of facilities: lifts and cable cars, can carry tens of thousands of skiers per hour on the slopes of Tza Creuisa, Bellevue, Resselin and Platt de Greve.
Champoluc in Val d'Ayas is within the ski area Monterosa Ski. The ski resort of Champoluc offers slopes of various difficulties for all types of skiers, from children to experts, and thanks to artificial snow it is possible to extend the season throughout April and May. For those who practice cross-country skiing, there are loops that start directly from the town, while for downhill skiing it is possible to reach the 3,000 mt of Mount Sarezza. The area of Champoluc is connected 'on skis' to that of Gressoney-La-Trinité and from there to Alagna and Valsesia.
Gressoney-La-Trinité, one of the first valleys of Aosta Valley, crossed by River Lys, is a ski and tourist resort which for several decades has been equipped with lifts and snowmaking systems. Innovation and modernization of the facilities are always priorities in Gressoney, with new structures that facilitate the exchange between the tracks and sports areas. Also Gressoney-La-Trinité is part of the Monterosa Ski. For cross country skiers, in Gressoney-La-Trinité there is the famous loop Sant'Anna, 5 or 8 km, flowing into the woods. Recently, a Snowboarder Park was created in Gabiet.
Photo of Cervinia by m. galli
Photo of Gressoney by sportcommunities