Europe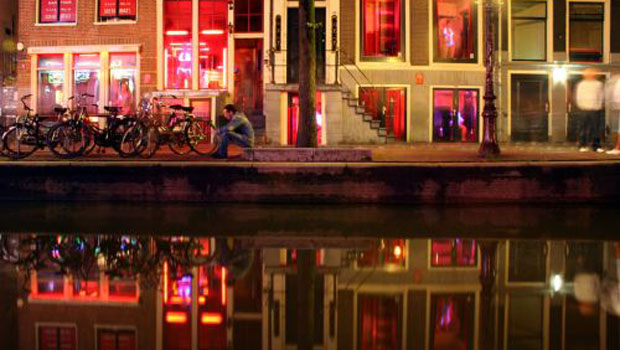 Published on January 27, 2011 | by Francy
0
Amsterdam: the city of lust
Seven cities for seven deadly sins. Amsterdam:  lust
"… he kissed my mouth while trembling,
The book and his author were our Galeotto:
we read no further from that day on".

Paolo and Francesca, let's imagine them there, on a triclinium sofa, their looks gazing upon always more, their hands touching lightly, the book falling down, their lips coming together and then … the lust, the ardent and unchecked desire, the abandonment to pleasure, sexual pleasure, one that will lead them to death.
One is naturally led to wonder: will there be enough room in Dante's hell, in the second circle, for all the lustful looking for pleasure in Amsterdam?
Good question, because avoiding pleasure in Amsterdam is a huge problem. The more liberal and tolerant city in Europe, offers residents and visitors many reasons to get lost in pleasures: coffee-shops for young dissolute and old nostalgic men; red-light districts (so much as three) for lustful; and boutiques and trendy shops where to go hog wild with pleasure, between lust and libido, for women.
Tolerance for soft drugs
About coffee-shops there is little to say, because lust maybe is just in finding them, with a "taste of lawful" for what is generally forbidden in our country. But it is after, that perhaps libido and lust fail, blinded by smoke and lost in seventies dreams. So let's leave this "pleasure" to those who desire it, wishing that it could lead to healthy sleep and wake up without headaches. For those wishing to avoid the consumption, but interested in the history of cannabis, there is a dedicated museum: Hash Marihuana Hemp Museum in Oudezijds Achterburgwal 148.
Tolerance for lust
The shop windows with girls for rent are the symbol of Amsterdam. The Red Light District or Rossebuurt as it is called by the citizens, is certainly a popular destination for tourists visiting the city, even because with the passage of the time the district has grown from just a place of perdition into a trendy area with locals, restaurants and clothing stores. Anyway, red lights, girls, strip and lap-dance clubs, gay and lesbian exclusive clubs, sex shops and whatever else may serve to satisfy the pleasure of sex … characterize this area as a center of lust and extreme tolerance.
The Red Light District actually covers three areas of the city: the most famous is that of Walletjes between the Central Station and Nieuwmarkt, another is Singel district between the Station and Raadhuistraat, the last is in Pijp district, near the Rijksmuseum.
Prostitution is legal in Holland since 1815 and it is a source of revenue for the government because it is taxed since 1996. Unfortunately, given the thousands of "authorized" prostitutes, there are many immigrant girls without a residence permit: in the entire country there are approximately 25 thousand prostitutes, including those "illegals".
The Red light district should be visited during the day because it is one of the oldest quarters in Amsterdam and it has several historic buildings of the fourteenth century that may not be seen in the night, distracted by lust flowing in the streets. The area is mostly dominated by Chinese, Thai and Tibetan restaurants with economical prices.
As for coffee-shops, those who want not "consume", but desire to enjoy it only from an aesthetic and cultural point of view, even for lust and sex there are several museums: the greatest is the Erotic Museum in Achterburgwal 54, an entire building dedicated to the world of eroticism (www.janot.com); the most charming and lustful is the Sex Museum, with its paintings, sculptures, objects and traditions in the history of peoples (in Damrak 18 – www. sexmuseumamsterdam.nl); and finally, half joking (lust cannot ignore the health), the Condom shop Het Gulden Vlies, in Warmoesstraat 141, a shop where the condom's latex becomes art.
And if you want add cultural value to your lust, don't forget to visit Casa Rosso, the most famous erotic theatre in the Red Light district, with its daily live shows, suitable even for women, in Achterburgwal 106.
Sexual lust and shopping lust
Recently, Amsterdam's mayor has made a clampdown on the tolerance of prostitution in shop-window and, although not able to eliminate it, many windows have been transformed into ateliers run by young fashion designers. The problem is that between coffee-shops and "Red lanterns", the districts risked to lose its charm of lust and pleasure areas, and more prosaically, they was turning into areas of money laundering. Hence the decision to limit the carnal lust in order to supply many aesthetic aspects: today, in fact, the neighborhood looks like a space where fashion and household offer tourists, especially for women, more reasons to visit Amsterdam.
Shopping in Amsterdam has nothing to envy to other European capitals. Starting from the center, from Dam Square and Kalverstraat Nieuwedijk and up the station, there is a whole series of fashion, clothing and accessories shops. Diamonds, for total dissolute people, are in the Rokin, while in the trendy De Jordaan and Wester districts, libidinous of antique will enjoy their senses.
But if you want the maximum concentration of luxury shopping, there is nothing left to go to De Negen Straatjes district and of its nine alley (Reestraat, Hartenstraat, Gasthuismolensteeg, Berenstraat, Wolvenstraat Oude Spiegelstraat, Runstraat, and Huidenstraat Wijde Heisteeg), where you can find everything you portfolios can afford.
Again, in Hooftstraat there are Italian shops and Italian brands, while in Singelstraat a certain number of art galleries. There are, also, a large number of shopping centers: Magna Plaza in Nieuwezijds Voorburgwal, Kalvertoren in Kalverstraat and Bijenkorf in Piazza Dam.
And… that lust, in any form, be with you!
Photo by aforero