Food & Wine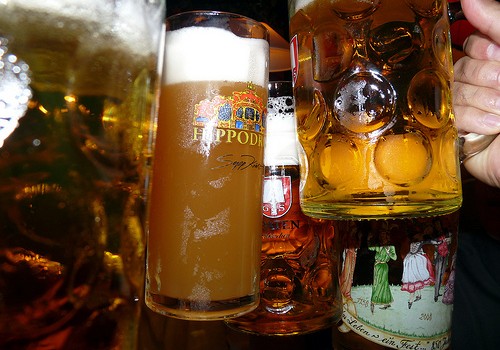 Published on September 13, 2011 | by Andrea Guerriero
0
All quiet on the Firing Line: Oktoberfest coming soon!
A dear friend of mine thoroughly talked about it, but the point is this: Oktoberfest is coming and I too would like to tell you something about it! This is the compromise: for all the details I invite you to look at his comprehensive and detailed articles, while here you will find a short list to be sure you won't miss anything, and some curiosities! You will only be putting all our energy so as you may live this experience at its most. So let's get started!
People from all over the world, music, fun and togetherness, and the typical joy of Bavaria, all mixed with the key ingredient: beer. Welcome to Oktoberfest: Munich – September 17th to October 3rd, 2011.
Among the gallons of beer produced exclusively for the event – see here a list of the most important Bavarian beers you will enjoy at the Festhalle – and the exciting experiences at Oktoberfest's funfair – see also how to enjoy A family trip to Oktoberfest – here are some tidbits that might, but should not, go unnoticed.
Did you know that at the Oktoberfest you can attend one of the few surviving flea circuses? A safe investment if you want to bet, no one will believe you, but anyone can see with their own eyes: tiny fleas pulling small carts, dancing and playing soccer.
Inside the Festhalle, don't rack your brains asking for small, medium and large sizes of beer: there is only one single standard measure at Oktoberfest: the Maß, the famous one-liter jug. "Eine Maß bitte" (a mug, please) is all you need to say, you'll pay it less than 10 Euros but do not expect the rest, because at least you won't specifically claim it, it will be intended as a tip by the pretty waitresses.
Photo by Ethan Prater
If you happen to get lost, and this often happens at the Oktoberfest, especially from a certain point on, arrange from the beginning with your friends to meet under the bronze statue of Bavaria. Symbol of Bavaria and of its patriotism, with its 70 tons and 18 mt high, inside of it you can climb 121 steps to watch Oktoberfest through her eyes. At its foot you'll find hundreds of "lost friends", as the statue is often used as a meeting point for people who get lost, Bavaria being visible from everywhere.
The rest is up to you, for further information, take a look at these FAQs about Oktoberfest.
"Live And Let Live. Eat And Drink Well"