Festival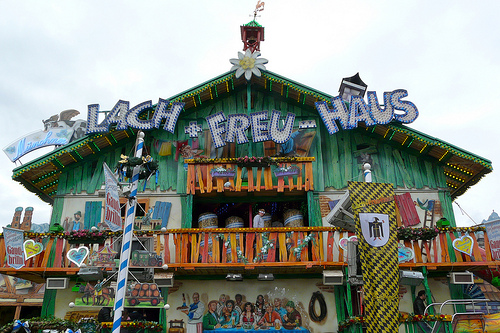 Published on February 21, 2018 | by Germanico
1
Useful tips on visiting Oktoberfest
Probably, for the veterans of the Oktoberfest, the following tips are unnecessary. But for those experiencing for the first time this important event in Munich (which although being called Oktober-fest, takes place in September), some guidance is needed.
Here are some advices and things to know:
At the entrance of the tents, the staff will check in your backpacks and bags to make sure you are not taking food in: you are allowed to eat only what you buy at the stand
It is advisable to visit the Luna Park before drinking. Especially before eating pork or pork shank. The loops on the scary attractions are very harmful for your stomach
On weekends, the beer stands are crowded since early in the morning, with people who won't get up from the table until the time of closing. Those who arrive late could have to wait even an hour to sit at a table, especially large groups.
The friendly waitresses accept tips and make your drink faster.
Inside the beer tents, only who is sitting at a table can drink.
In the Festhalle, many tables are booked. However, you can still use them until a few minutes before the reservation
Booking a table from one day to another is virtually impossible. The only way to reserve one is trying to ask several days earlier, or better yet, before the festival starts, via the web sites indicated by the 'brewers' themselves.
Finding last minute accommodation is impossible as well. For this reason, advanced booking is not only recommended, but it is practically mandatory if you wish to stay a few days in Munich.
The halls of the breweries are all no smoking.
The best is to get to the Oktoberfest by train (Central Station is 10 minutes walk from the square of the festival) or by plane. If you are driving a car, remember where you park it. In the midst of thousands of others, it could be very difficult to find it.
Do not be rude, especially the boys, and do not pee wherever you feel like. There are many bathrooms available
In the days of the Feast, also the numerous cyclists moving around Munich become dangerous. Be careful crossing the streets. Especially after drinking
Some people should keep in view a sort of badge with a phone number to call in case of … extreme drunkenness.
Do not forget to bring home a pint, in memory of this experience which … you probably won't remember that much.
Photo by sanfamedia.com