Italy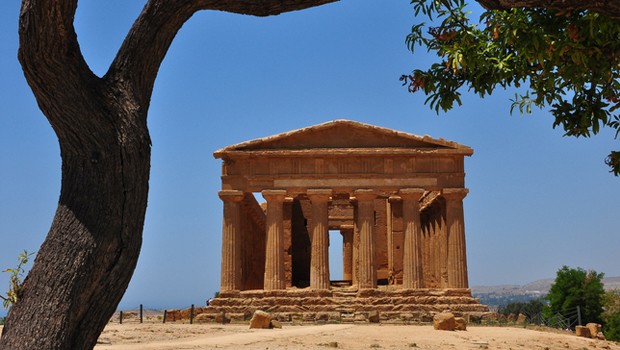 Published on May 5, 2011 | by Andrea Guerriero
0
Agrigento – Valley of the Temples Magic Atmosphere
Agrigento is one of the most frequented tourist destinations in Sicily, easily reachable by car after landing in Palermo. This lively city owes its fame to the beautiful remains of Greek temples, which are among the best preserved of the world.
This is the Valley of the Temples, a UNESCO World Heritage Site since 1998. On a rocky ridge bordering to the south with the plateau on which stood the classical village, you will enjoy a tour through the remains of the Doric temples of Hera (Juno) Lacinia, Concorde, Heracles (Hercules), Zeus (Jupiter), Castor and Pollux (Dioscuri) and Hephaistos (Vulcan). Further down, you will find the plain of San Gregorio, crossed by the river Akragas, which runs towards the port and the Emporion of the ancient city.
Near the river, there is the temple dedicated to the god of medicine, Asclepius. All around, on an area of 1,300 hectares, an unparalleled stretch of greenery, with typical vegetation of the Mediterranean areas: the spectacle of a divine nature taking turns with numinous works of man. However, the real show is at night, in the glare of the spotlight, when the sumptuous constructions of this ancient city, rising steeply above the Mediterranean Sea, seem to emerge from an era long since disappeared.
The guided tour of the lit up temples is operated every day from July to early September, and takes place in the most suggestive moment of the day, between dusk and nightfall, when the temples are enlightened first by the colors of the sunset and then by the light of reflectors.
The tours are led by licensed tour guides, who will present the monuments from a historical, artistic and archaeological point of view, allowing the understanding of the culture and people that have made Akragas "the most beautiful city of mortals" what it is. The night tour costs 10 Euros per person (plus the entrance ticket) and lasts about one hour.
Those who prefer the traditional excursion, can enjoy the traditional visit at the Hill of the Temples, with the Temples of Juno, Concorde and Hercules open to the public every day from 8:30 to 19:00 and the Temple of Zeus, the sanctuary of the chthonic deities (earth gods, referred to Demeter and Persephone) and the Temple of Castor and Pollux, which open half an hour later.
The entrance ticket (valid also for the visit to the Archaeological Museum San Nicola) costs 10 Euros up per person, but there are also many reductions and admission is free for certain visitors, ask for details at the ticket office.
Photo by archer10 (Dennis)